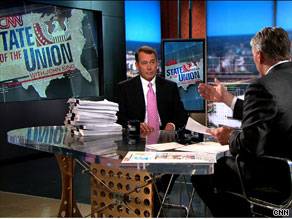 Last Sunday, House Minority Leader John Boehner brought a copy of the nearly 2000-page House bill crafted by Democrats to his interview on CNN's State of the Union.
Washington (CNN) - The House of Representatives on Saturday night passed an amendment to pending health care legislation that prohibits federal funds for abortion services in the public option and in the insurance "exchange" the bill would create.
The vote passed 240-194.
A second amendment considered by the House, introduced by Minority Leader John Boehner, which would have substituted several sections of the health care bill dealing with insurance, did not pass. Legislators voted against the amendment 258-176.