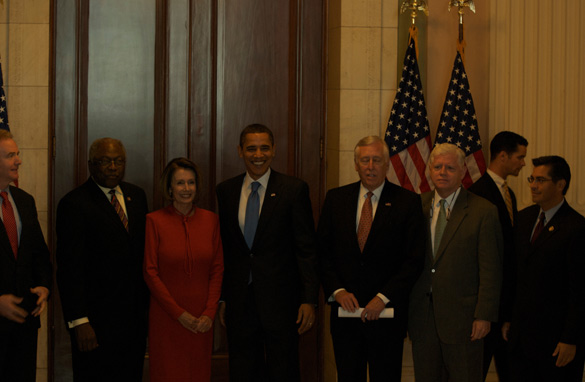 The president paused for a photo after meeting with Speaker Nancy Pelosi, House Majority Leader Steny Hoyer, House Majority Whip Jim Clyburn and other House Democrats on Capitol Hill Saturday. (Photo Credit: Matt Hoye/CNN)
Washington (CNN) - Emerging from a meeting with President Barack Obama, the House Democratic leadership appeared confident Saturday that their health care legislation would pass.
"Today we will make not only history, but progress for America's working families," Speaker Nancy Pelosi told reporters assembled outside the meeting room.
"We're on the cusp of making an historical decision on behalf of the American people," added House Majority Whip James Clyburn of South Carolina.
A senior Democratic aide quoted the president as saying during the meeting that he was "absolutely confident that you guys will get this done."
"Absolutely confident that when I sign this in the Rose Garden, each and every one of you will be able to look back and say 'this was my finest moment in politics,'" the aide quoted Obama as saying.
White House spokesman Bill Burton said the president made the case that Congress has a historic opportunity today to provide stability and security for those who have insurance, affordable coverage for those who don't and bring down the cost of health care for families, small businesses and the government.
Burton also reported that Obama told the Democratic lawmakers that they had made more progress on comprehensive reform than any administration and any Congress in the past 70 years, and that they should take this historic opportunity to pass health care reform so that he can sign a bill by the end of this year.
Full story

Updated: 1:27 p.m.
–CNN's Elaine Quijano contributed to this report.