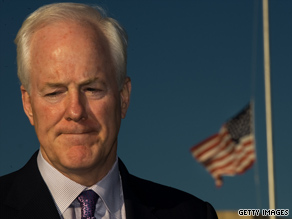 The flag flew at half-staff as Texas Sen. John Cornyn made remarks Friday about the shootings at Fort Hood in his state.
Fort Hood, Texas (CNN) - As investigators at Fort Hood meticulously probed Thursday's grisly massacre, a Texas surgeon said more of the wounded victims of the shootings were slowly but surely on the mend.
Flanked by Texas Gov. Rick Perry and two state representatives, W. Roy Smythe, chief of surgery at Scott & White Memorial Hospital, said "a lot of progress has been made" in treating patients wounded in the rampage and that "some of them are out of the woods."
But Smythe told reporters in a Saturday news conference there is a possibility some patients will be "physically impaired" for life. And, he said, there's "no doubt many" will be "psychologically impaired the rest of their lives."
Thursday's mass shooting left 12 soldiers and one civilian dead and 38 others wounded at the Fort Hood Army Post in Texas. Thirty-four of the injured had gunshot wounds, military officials said. The suspect in the shooting, Maj. Nidal Malik Hasan, a licensed Army psychiatrist, was among the two dozen who remained hospitalized Friday night.
Hasan was transported by air Friday afternoon to Brooke Army Medical Center in San Antonio, and had been listed in critical but stable condition.
The incident has sparked national outrage. In his Saturday address, President Obama said it was "an act of violence that would have been heartbreaking had it occurred anyplace in America." But the president said, "it's all the more heartbreaking and all the more despicable because of the place where it occurred and the patriots who were its victims."
The White House said President Obama and the first lady will be attending a memorial service on Tuesday and the president ordered flags flying over the White House and other federal buildings to be lowered to half-staff until Veterans Day on Wednesday.