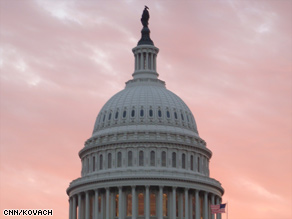 The CNN Washington Bureau's morning speed read of the top stories making news from around the country and the world.
WASHINGTON/POLITICAL
For the latest political news: www.CNNPolitics.com.
CNN: Bill Clinton to address Senate Democrats on health care
CNN has learned from two senior Democratic sources that former President Bill Clinton will attend the Senate Democrats' weekly luncheon Tuesday to address the caucus about health care.
CNN: House, Senate differ sharply on health care reform
Where does the battle for health care reform go from here? More importantly, what does it mean for you?
CNN: White House: No Afghanistan troop decision made
White House National Security Adviser Retired Gen. Jim Jones issued a rare public statement Monday vehemently denying media reports that suggest U.S. President Barack Obama has privately decided to send close to 40,000 more U.S. troops to Afghanistan.
CNN: Senate controversy over abortion already underway
In a sign that the wrenching House debate over abortion is already vexing Senate Democrats, Nebraska Sen. Ben Nelson told CNN Monday he will vote against any health care bill that does not include the strict abortion restrictions that passed the House.
Washington Post: For doctor, the Senate is a bitter pill
Tom Coburn is a Southern Baptist deacon, a family man married to a former Miss Oklahoma, a white-coated physician back in Muskogee who has delivered more than 4,000 babies and sees patients free of charge every Monday.
Wall Street Journal: Effort to Assist Older Voters May Raise Costs for the Young
A provision in the House health-care bill sets up a stark choice for Democrats between the interests of younger voters and older ones.
CNN: Netanyahu urges renewed Mideast talks
Israeli Prime Minister Benjamin Netanyahu called for an immediate resumption of peace talks with Palestinians on Monday, hours before he met with President Obama.
Wall Street Journal: U.S. Lowers Goals for Asia Trip
President Barack Obama jets to Asia on Thursday for a four-nation swing that White House officials say will highlight the centrality of the continent to U.S. economic health and security.
USA TODAY: Some key Obama administration jobs still unfilled
Medicare may be cut and Medicaid expanded as part of President Obama's health care plan, but there's no one permanently in charge of the two federal programs.
CNN: Romney builds political capital while biding time on 2012 run
For a moment, you might think Mitt Romney was still running for office if you look at his travel schedule crisscrossing the country.
CNN: Huckabee suggests Palin double standard
There's a likely GOP 2012 presidential candidate who is a former governor, darling of the party's conservative base, and the leader of nearly every early presidential poll.
CNN: Palin returns to 'death panels'
Sarah Palin is returning to the two words widely credited with helping to spur angry town-halls on health care reform over the summer: "death panels."
Washington Post: 'Scozzafava' turns into epithet
Over Halloween weekend, Dede Scozzafava morphed from a rosy-cheeked Republican mom to a political figure of speech. "My name's a verb now," she said.
POLITICO: Scozzafava loses post
Dede Scozzafava, the GOP nominee who dropped out to endorse Democrat Bill Owens in New York's special election, resigned from her spot in the state's assembly leadership Monday.
Boston Globe: Lynch's wife tied to agencies he won grants for
US Representative Stephen F. Lynch has engineered four federal grants for a community health center and another three grants for a nearby substance abuse program, organizations for which his wife, Margaret, is an employee or board member.
CNN: Connecticut governor opts against 2010 re-election bid
Republican Gov. Jodi Rell of Connecticut will not seek re-election, according to spokesperson Rich Harris.
CNN: Liberal groups provide air cover to Democrats
A coalition of unions, liberal interest groups and other organizations is providing air cover for 20 House Democrats who voted this past weekend in favor of the Democratic leadership's health care reform bill.
Washington Post: FHA's reserve fund hits 7-year low
The Federal Housing Administration, which has played a crucial role supporting American home buyers after the collapse of the mortgage market, has burned through a huge cash reserve in less than a decade and could soon wind up with what amounts to an automatic taxpayer bailout if the agency's fortunes don't improve, according to a review of FHA finances.
CNN: Club For Growth officially picks Rubio
The conservative Club For Growth formally endorsed former Florida House Speaker Marco Rubio Monday over the Republican Party's choice of current Gov. Charlie Crist in that state's Senate primary race, setting the stage for what again could be a bitter intra-party battle within the GOP.
CNN: New Hampshire Senate battle heats up
The field in the race for New Hampshire's open Senate seat is growing.
CNN: Armey says health care reform will kill innovation
Dick Armey, the former House majority leader whose leadership of FreedomWorks has proved vital to organizing opposition to Democrats' health care reform efforts, told CNN Monday the recently-passed House health care bill could cripple the entire pharmaceutical industry.
NATIONAL
For the latest national news: www.CNN.com.
CNN: Investigators look for missed signals in Fort Hood probe
Investigators believe the suspected gunman in last week's massacre at Fort Hood acted alone, but his communications had been flagged by U.S. intelligence agencies in late 2008, the FBI said Monday.
CNN: Fort Hood soldier: I 'started doing what I was trained to do'
Pvt. Joseph Foster was filling out routine paperwork for his upcoming deployment to Afghanistan on Thursday when he heard a shout quickly followed by a burst of gunfire from just a few feet away.
Washington Post: Hasan e-mails to cleric didn't result in inquiry
Maj. Nidal M. Hasan corresponded by e-mail late last year and this year with a radical cleric in Yemen who has criticized the United States for waging war against Muslims, but the contact did not lead to an investigation, federal law enforcement officials said Monday.
CNN: Supreme Court won't halt D.C. sniper's execution
The Supreme Court refused Monday to block the execution of John Allen Muhammad, the mastermind of the sniper team that terrified the suburbs of the nation's capital in October 2002.
CNN: Ida bears down on Gulf Coast
Tropical Storm Ida churned northward toward the U.S. Gulf Coast on Monday evening, but flooding from the storm's rain bands was already reported in at least one location, hours before Ida was expected to make landfall.
Wall Street Journal: Life on Severance: Comfort, Then Crisis
Paul Joegriner hasn't worked since March 2008, when he was laid off from his $200,000-a-year job as chief executive officer of a small bank. But you wouldn't know it by appearances.
CNN: Niece of Cleveland mayor lived with murder suspect Sowell
The niece of the mayor of Cleveland, Ohio, once lived with murder suspect Anthony Sowell, a registered sex offender charged with murder after the remains of 11 victims were found at his home, a spokeswoman for the mayor said Monday.
CNN: 3 teens accused of setting boy on fire face attempted murder charges
Three teens who allegedly set a 15-year-old friend ablaze were charged Monday as adults, and with attempted murder, prosecutors said.
Washington Post: Head games
Blake Lawrence tried not to think about injuries when he was on the football field. But Lawrence, a junior who until recently played linebacker at the University of Nebraska, could have been forgiven for worrying about his head. In one 12-month span, from spring 2008 to spring 2009, three on-field blows left Lawrence with a trio of mind-numbing concussions.
CNN: Texas resists family's effort to clear executed man's name
Cameron Todd Willingham's family here in Oklahoma never believed he set the fire that killed his three daughters.
New York Times: Power for U.S. From Russia's Old Nuclear Weapons
What's powering your home appliances? For about 10 percent of electricity in the United States, it's fuel from dismantled nuclear bombs, including Russian ones.
CNN: Plea deal offered in astronaut love triangle case
A plea deal has been offered in the case of a former astronaut accused of being involved in a well-publicized, violent love triangle, prosecutors said.
Wall Street Journal: Border Arrests Decline Again
The number of people caught illegally entering the U.S. dropped by more than 23% during the past year, continuing a longer trend, federal data shows.
INTERNATIONAL
For the latest international news: http://edition.cnn.com/
CNN: Iran to charge 3 American hikers with espionage, says prosecutor
Iran is charging three American hikers with espionage, a Tehran prosecutor said Monday.
CNN: Report: Two Koreas' navies in skirmish
North and South Korean naval forces exchanged fire Tuesday in disputed waters, South Korea's semi-official Yonhap news agency reported.
New York Times: Future of Palestinian Authority Is in Question
The collapse of the Palestinian Authority, Israel's negotiating partner, was raised as a possibility on Monday, as several aides to its president, Mahmoud Abbas, said that he intended to resign and forecast that others would follow.
CNN: War's 'Lost Boy' grows up to graduate from college
Kuol Dut was six when the swirling chaos of war churned through his village.
CNN: Venezuela, Colombia in war of words
The Colombian government said it would appeal to international bodies over what it called a threat made over the weekend by Venezuelan President Hugo Chavez.
New York Times: Women Ascend to Iraq's Elite Police Officer Corps
As one, the stony faces broke into a free-for-all of kisses, hugs and tears on Monday as the 50 women who called themselves the Lioness group became the first female graduates of Iraq's police officer training academy.
CNN: Floods, mudslides kill scores in El Salvador
At least 130 people have died and dozens are missing after heavy rains triggered flooding and mudslides that buried communities Sunday and left a swath of destruction in El Salvador, officials said Monday.
CNN: U.S. relieved as Iraq passes election law, ambassador says
U.S. Ambassador to Iraq Christopher Hill said Sunday that American officials were extremely relieved that Iraq's parliament passed a long-awaited election law.
Los Angeles Times: Glorious vision in Kenya's sky melts away
Mt. Kenya's ice cap was so stunning that some began revering it as God's home. But most of the shining glacier has now disappeared, robbing communities of water and leading to a crisis of faith.
McClatchy: Fear and secrecy cloak Eritrea, Africa's hermit nation
In this lonely corner of the world, the first sign of distress is the luggage. When one of the few international flights that are still operating here touched down one recent afternoon, the returning passengers emerged from baggage claim as if from a big shopping trip. Old metal trolleys squealed under the weight of mundane items: tires, a laptop computer, tubs of detergent and duffel bags crammed so tightly with food that tin cans bulged through the fabric.
BUSINESS
For the latest business news: www.CNNMoney.com.
CNNMoney: Banker's bonuses: 40% bigger this year
Bonuses at financial firms worldwide will increase by an average of 40% this year, according to an annual report released Monday.
CNNMoney: Dow surges to 13-month high
Stocks rallied Monday, with the Dow industrials surging to a 13-month high, as investor optimism gained momentum.
CNNMoney: Good news: Fewer underwater mortgages
Fewer people are underwater on their mortgages - further evidence that the real estate free-fall may be slowing.
In Case You Missed It
To watch the latest interviews and reporting: http://www.cnn.com/video.
CNN: Berlin Wall dominos tumble
Dominos painted by artists across Germany tumble to symbolize the fall of the Berlin Wall.
Subscribe to the CNN=Politics DAILY podcast at http://www.cnn.com/politicalpodcast.
And now stay posted on the latest from the campaign trail by downloading the CNN=Politics SCREENSAVER at http://www.CNN.com/situationroom.