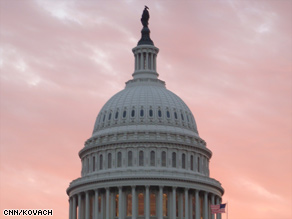 The CNN Washington Bureau's morning speed read of the top stories making news from around the country and the world.
WASHINGTON/POLITICAL
For the latest political news: www.CNNPolitics.com.
CNN: Fort Hood killings 'incomprehensible,' Obama says
President Obama led a memorial service Tuesday for the 13 people killed in last week's massacre at the largest U.S. military installation, telling thousands of mourners that the legacy of the dead will live beyond their "incomprehensible" slayings.
CNN: Obama considering 4 options for Afghanistan, sources say
President Obama is considering four scenarios to move forward in Afghanistan and is expected to discuss them at his eighth meeting with his war council on Wednesday afternoon sources told CNN.
CNN: Congress to miss health care deadline, key senator says
Congress will miss President Obama's deadline to enact health care reform by the end of the year, a key Democratic senator said Tuesday.
CNN: U.S. announces one-on-one talks with North Korea
U.S. officials will soon meet unilaterally with North Korean representatives to facilitate the resumption of talks on ending North Korea's nuclear program, State Department spokesman P.J. Crowley said Tuesday.
CNN: Obama to seek stronger ties on Asia trip
Barack Obama is the first U.S. president to have lived in Asia as a child, and that unique perspective will help shape his nine-day trip to the region starting Thursday, U.S. officials say.
CNN: 'Regular guy' Thune is hot commodity in GOP circles
He walks through Washington's Reagan National Airport, arriving as he does nearly every Monday from a weekend home in South Dakota. He makes his way unnoticed.
Washington Post: Dodd's reform plan takes aim at the Fed
The chairman of the Senate Banking Committee on Tuesday unveiled a sweeping regulatory reform bill that would strip the Federal Reserve of nearly all of its power to oversee banks, setting up a possible clash with the Obama administration, which has argued for the central bank to play a pivotal role in addressing financial threats.
Washington Post: Dodd's overhaul goes well beyond other plans
A regulatory bill that Sen. Christopher J. Dodd (D-Conn.) introduced Tuesday would create three agencies aimed at policing threats to the economy, preserving banks in good health and protecting borrowers from abuse.
New York Times: Under Attack, Fed Chairman Studies Politics
With the Federal Reserve under more intense attack than at any time in decades, Ben S. Bernanke, the professorial chairman of the central bank, was schooled last month in how to handle the increased political demands of his job.
CNN: Dunn leaving White House
White House Communication Director Anita Dunn – who recently drew headlines for her criticism of Fox News – will be leaving her post at the end of November, administration officials confirmed Tuesday.
CNN: Emanuel: Settlement issue should not block Mideast peace
The White House chief of staff Tuesday reaffirmed the U.S. commitment to Israel and said the dispute over settlements should not keep the Israelis and Palestinians from holding peace talks.
Washington Post: In Congress, injured vets signing on for duty
Dan Lasko swore his oath to join the Marine Corps early on the morning of Sept. 11, 2001 - just before the terrorist attacks. As he watched the towers fall and the Pentagon burn, he knew his service to his country would be more vital than he could have imagined.
CNN: Senators seek to limit congressional service
A handful of Republican senators have proposed a Constitutional amendment to limit the amount of time a person may serve in Congress.
CNN: Gates: "America's family is in mourning" over Fort Hood
The investigation into last week's shooting rampage at Fort Hood will be a "thorough accounting," Defense Secretary Robert Gates pledged.
CNN: Gates praises Reagan for 'circumspect' use of U.S. military
Defense Secretary Robert Gates praised President Ronald Reagan on Tuesday for being "circumspect" about putting American credibility or troops at risk in the absence of "a clear mission or strong odds of success."
Wall Street Journal: Congress Has History of Reversing Cuts
In 1997, Congress passed a budget law that mandated tough curbs on Medicare spending, setting up formulas to reduce doctor payments if broad spending targets were exceeded. But when the formula began taking a serious bite out of doctor reimbursements in 2002, Congress acted to reverse the cuts - a step it has repeated five times since then.
Wall Street Journal: Mortgage Program Gathers Steam After Slow Start
The Obama administration said Tuesday that its mortgage-modification program has enrolled one in five eligible homeowners, a sign the effort is gathering momentum after a slow start. But so far few of those trial modifications are turning into permanent fixes.
New York Times: Blackwater Said to Pursue Bribes to Iraq After 17 Died
Top executives at Blackwater Worldwide authorized secret payments of about $1 million to Iraqi officials that were intended to silence their criticism and buy their support after a September 2007 episode in which Blackwater security guards fatally shot 17 Iraqi civilians in Baghdad, according to former company officials.
CNN: Obama to name new USAID chief
President Barack Obama will nominate Dr. Rajiv Shah to fill the long-vacant position as head the U.S. Agency for International Development, a senior administration official confirmed to CNN Tuesday. The official spoke on background because a public announcement has not yet been made.
Washington Post: U.S. citizen sues over treatment in 'rendition'
An American who was captured by Kenyan forces in January 2007 filed suit in U.S. District Court in Washington on Tuesday, arguing that FBI agents allegedly involved in his interrogation and transfer to other countries violated his constitutional rights.
CNN: Scozzafava takes on Palin
Dede Scozzafava, the woman who has become the symbol of moderate Republicanism, is taking a shot at former Republican vice presidential hopeful Sarah Palin, the woman who has become the darling of the Republican Party's conservative grassroots.
CNN: Senator: 131,000 homeless vets a 'disgrace'
Americans from coast to coast are getting ready to enjoy the annual Veterans Day holiday this week.
New York Times: You Can Quote Me, Next Week
The school newspaper at Dalton, a private school in Manhattan, contained a cryptic note from its editors last Friday. "We are not able to cover the recent visit by a Supreme Court justice due to numerous publication constraints," the note said. It promised "an explanation of the regrettable delay" in the next issue.
CNN: First on the Ticker: Romney to speak at Reagan Ranch
Mitt Romney is heading to Reagan country. The former Massachusetts governor is scheduled to speak this Friday to the Young America's Foundation at the Ronald Reagan Ranch Center in Santa Barbara, California. Romney is expected to be the dinner banquet speaker for the foundation's West Coast Leadership Conference, which consists of young conservatives from 44 colleges and universities across 12 states.
CNN: Palin heading to Iowa
Sarah Palin's heading to Iowa. The former Alaska governor and 2008 GOP vice presidential nominee's upcoming book tour will taker her to Sioux City, Iowa, on Sunday December 6, according to an announcement posted on the Barnes and Noble Web site.
CNN: Police remove activists trying to occupy Lieberman's office
Police arrested six demonstrators Tuesday inside the Capitol Hill office of Sen. Joe Lieberman (I-Connecticut), after a group protesting his views on health-care legislation refused to leave.
Boston Globe: Stimulus job boost in state exaggerated, review finds
While Massachusetts recipients of federal stimulus money collectively report 12,374 jobs saved or created, a Globe review shows that number is wildly exaggerated. Organizations that received stimulus money miscounted jobs, filed erroneous figures, or claimed jobs for work that has not yet started.
CNN: Reid invited Clinton to Hill after consulting with WH
Two sources tell CNN that the idea for having former President Bill Clinton talk with Democratic senators about health care came from Senate Majority Leader Harry Reid. A senior administration official says Reid asked Clinton to do it, and the White House had a role in helping to arrange it.
CNN: Top Connecticut gubernatorial candidate not running
A new poll suggests that Connecticut Gov. Jodi Rell's approval rating is on the rise and that she would beat all her potential Democratic challengers in next year's election. The only problem, Rell is not running for re-election.
NATIONAL
For the latest national news: www.CNN.com.
CNN: Sniper John Allen Muhammad executed
Washington-area sniper John Allen Muhammad was executed Tuesday by lethal injection, a Virginia prisons spokesman said.
CNN: Official: Fort Hood suspect asked military to give Muslims an out
The suspect in last week's deadly shooting spree at Fort Hood urged in 2007 that Muslims in the U.S. Army be allowed to claim conscientious objector status when it comes to fighting other Muslims in war, a defense official said Tuesday.
CNN: King: Army strain, recovery at Fort Lewis
The pain is excruciating, but to Army Spc. Michael Ballard, pain is the price of progress.
Washington Post: Possible agency missteps debated
As the nation mourned the 13 people shot dead last week at Fort Hood, Tex., finger-pointing in Washington intensified Tuesday about whether officials at several agencies had failed to coordinate as they tracked the suspect's activities or to react to possible warning signs in the months before the attack.
Boston Globe: His next mission: finding civilian work
Sergeant First Class Robert Hornbrook of the Green Berets excels at many things. He can kick in doors and jump out of planes, roust insurgents, and rescue hostages. He knows how to survive capture, torture, the jungle, and the desert. He hits what he shoots at. He is an acknowledged leader among elite warriors, with a Bronze Star, hundreds of combat missions, and 20 years of military service under his belt.
CNN: No bond for 3 teens charged as adults in burning of 15-year-old
Three teens accused of setting a 15-year-old friend ablaze were held without bond Tuesday on adult charges of attempted murder.
New York Times: States Mold School Policies to Win Federal Money
Colorado's lieutenant governor, Barbara O'Brien, has been parsing every public statement by Education Secretary Arne Duncan for nuances that could help her position the state as a winner in the $4 billion competition for federal school dollars known as Race to the Top.
CNN: Texas polygamist gets 10 years for sexual assault
A polygamist sect member arrested following last year's raid of a west Texas ranch was sentenced Tuesday to 10 years in prison for sexually assaulting an underage girl, authorities said.
Washington Times: Peace Corps' popularity jumps
The Peace Corps, the volunteer program that emerged from President Kennedy's New Frontier in 1961 to promote international development and good will, is seeing a record number of applications.
CNN: Discharged under 'don't ask, don't tell'
Darren Manzella saw two tours of duty in Iraq, first as a combat medic and later as a liaison officer. He earned three promotions in his six years as a U.S. Army sergeant.
CNN: Ida dwindles to tropical depression off Gulf Coast
Ida has been downgraded from a tropical storm to a tropical depression as it lost momentum during its approach to the U.S. Gulf Coast early Tuesday.
CNN: Ex-astronaut in love triangle case avoids prison with plea deal
A former astronaut who was accused of assaulting a romantic rival in the parking lot of the Orlando airport will avoid prison after pleading guilty to lesser charges as part of a plea agreement.
INTERNATIONAL
For the latest international news: http://edition.cnn.com/
CNN: Pilot charged after UK airport arrest
British police said they stopped a United Airlines pilot from flying while intoxicated earlier this week, pulling him from a Boeing 767 aircraft at London's Heathrow airport and charging him with being on duty while his blood-alcohol level was over the limit.
CNN: At least 26 dead in Pakistan traffic blast
A suicide car bomber struck a congested traffic circle outside Peshawar Tuesday, killing at least 26 people - including several women and children - and wounding 60 others, police and hospital officials said.
CNN: New jihad code threatens al Qaeda
From within Libya's most secure jail a new challenge to al Qaeda is emerging.
CNN: Iran urges Yemen's neighbors to stay out of rebellion
Iran's foreign minister Tuesday called on Yemen's neighbors to stay out of the conflict between Yemeni forces and Shiite Muslim rebels, while Yemen said it had seized an Iranian ship near its territorial waters.
Wall Street Journal: Hackers Indicted in Widespread ATM Heist
The U.S. Justice Department indicted eight Russian and Eastern European computer hackers, alleging they were part of a crime ring that allegedly broke into ATMs in hundreds of cities world-wide and stole $9 million in a matter of hours.
Los Angeles Times: Trafficking reports raise heart-wrenching questions for adoptive parents
Accounts of Chinese children being kidnapped, bartered and sold to orphanages have many adopters wondering about their children. Some may try to track down the birth parents - but then what?
CNN: Dam failure triggers huge blackout in Brazil
An important hydroelectric dam shared by Brazil and Paraguay failed Tuesday night, pushing a large swath of central and southern Brazil into darkness, said the country's minister of mines and energy, Edison Lobao.
Washington Post: In Afghanistan, Taliban surpasses al-Qaeda
As violence rises in Afghanistan, the power balance between insurgent groups has shifted, with a weakened al-Qaeda relying increasingly on the emboldened Taliban for protection and the manpower to carry out deadly attacks, according to U.S. military and intelligence officials.
CNN: Police: Enke's death apparent suicide
The goalkeeper for the German national soccer team was struck by a train Tuesday in what police called an apparent suicide.
CNN: Kalashnikov gun designer turns 90
Red Army tank commander Sgt. Mikhail Kalashnikov invented his first machine gun in 1942, during the Second World War, as he sat in a hospital bed recovering from a wound that he got in western Russia.
CNN: Chinese credit card debt mounts
The world economy is placing a bet on its future with China, but some Chinese are placing bets on their future with plastic.
BUSINESS
For the latest business news: www.CNNMoney.com.
Fortune: There are still too many houses
The lights are on in the housing market. But at more and more places, nobody's home.
CNNMoney: Former Bear Stearns execs not guilty
Two former Bear Stearns hedge fund managers were found not guilty on all charges on Tuesday in the first major criminal trial stemming from the housing and financial meltdown.
New York Times: Calming the Black Friday Crowds
A year after an unruly crowd trampled a worker to death at a Wal-Mart store, the nation's retailers are preparing for another Black Friday, the blockbuster shopping day after Thanksgiving. Along with offering $300 laptops and $99 navigation devices, stores are planning new safety measures to make sure the festive day does not take another deadly turn.
CNNMoney: JPMorgan Chase to hire 1,200
JPMorgan & Chase announced plans Tuesday to hire 1,200 mortgage loan officers as the bank moves to expand its home loan business.
CNNMoney: The dollar is weak because ...
Here's the latest twist on the timeless chicken versus the egg debate. Which came first: the stock and commodities rally or the weaker dollar?
In Case You Missed It
To watch the latest interviews and reporting: http://www.cnn.com/video.
CNN: German Footballer Death
World Sport's Mark McKay talks to German football analyst Raphael Honigstein about the death of footballer Robert Enke.
Subscribe to the CNN=Politics DAILY podcast at http://www.cnn.com/politicalpodcast.
And now stay posted on the latest from the campaign trail by downloading the CNN=Politics SCREENSAVER at http://www.CNN.com/situationroom.