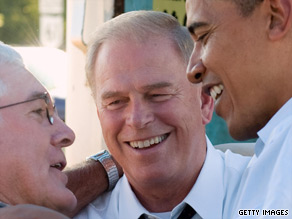 Strickland's approval rating is slipping, a new poll suggests.
(CNN) - There is more evidence Wednesday that now is not a good time to be an incumbent governor facing re-election next year.
According to a new Quinnipiac University poll, Ohio Gov. Ted Strickland's approval rating now stands at 45 percent, with 43 percent of Buckeye state voters saying they disapprove of the job he's doing. The 45 percent approval rating is Strickland's lowest score in Quinnpiac polling since he won the governor's office in the 2006 election.
Strickland, a Democrat and former congressman, is up for re-election next year. The survey indicates that he's tied with possible Republican challenger John Kasich in a hypothetical 2010 match-up for governor. Strickland held a 10 point lead over Kasich, a former congressman, in a Quinnipiac poll conducted in September.
The survey, released Wednesday morning, suggests that Ohio voters see Kasich as better able to handle rebuilding the state economy and the budget. According to the poll, by 19 percent voters disapprove of how Strickland's handling the economy.
"When Quinnipiac University first began asking about a Strickland-Kasich race for Governor in February, the incumbent held a 56 -26 percent lead over his challenger. Now they are dead even. Obviously a lot has changed: the Governor's own ratings have gone down more than the challenger's have come up," says Peter Brown, assistant director of the Quinnipiac University Polling Institute.
The Quinnipiac University poll was conducted November 5-9, with 1,123 Ohio voters questioned by telephone. The survey's sampling error is plus or minus 2.9 percentage points.
CNN Deputy Political Director Paul Steinhauser contributed to this report

Follow Paul Steinhauser on Twitter: @psteinhausercnn