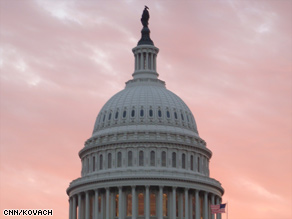 The CNN Washington Bureau's morning speed read of the top stories making news from around the country and the world.
WASHINGTON/POLITICAL
For the latest political news: www.CNNPolitics.com.
CNN: Obama seeks revisions to Afghanistan plans, sources say
President Obama told his war council Wednesday that the U.S. troop commitment to Afghanistan is not open-ended, and he asked for revisions to options he previously received for sending more troops, a senior administration official told CNN.
Washington Post: U.S. envoy resists increase in troops
The U.S. ambassador in Kabul sent two classified cables to Washington in the past week expressing deep concerns about sending more U.S. troops to Afghanistan until President Hamid Karzai's government demonstrates that it is willing to tackle the corruption and mismanagement that has fueled the Taliban's rise, senior U.S. officials said.
CNN: First full Senate showdown on legislation could happen next week
The first crucial showdown over health care reform by the full Senate could come as early as next Tuesday.
CNN Poll: Is Obama taking too long on Afghanistan decision?
Americans are split over whether President Barack Obama is taking too long to make a decision on whether to send more U.S. troops to the war in Afghanistan, according to a new national poll.
CNN: NH parents get condolences from Obama at Arlington
Skip and Rhonda Rollins were visiting the gravesite of their son Justin at Arlington National Cemetery Veterans Day when they received condolences from unexpected visitors – President Obama and First Lady Michelle Obama.
Wall Street Journal: White House Aims to Cut Deficit With TARP Cash
The Obama administration, under pressure to show it is serious about tackling the budget deficit, is seizing on an unusual target to showcase fiscal responsibility: the $700 billion financial rescue.
Washington Post: Fed's role makes its next move key
The Federal Reserve has over the decades viewed its independence from political influence as crucial for its ability to guide the U.S. economy.
Bloomberg: Wall Street Faces 'Live Ammo' as Congress Aims to Unravel Banks
Seven Wall Street lobbyists trooped to Capitol Hill on Nov. 9, hoping to convince Representative Paul Kanjorski's staff that his plan to dismantle large financial firms was a bad idea.
McClatchy: Obama urged to turn successful state job program national
As job losses continue to slow the nation's economic recovery, labor experts and economists are urging Congress and the Obama administration to boost funding for a little-known program that 17 states are using to avert layoffs and keep workers in their jobs.
CNN: Michele Bachmann's 'high stakes' political game grows
The thousands of restive conservative protesters milling outside the west front of the Capitol last week definitely didn't seem in the mood to listen - but there was at least one voice they wanted to hear.
CNN: Where is Michele Bachmann headed?
Much like former Alaska Gov. Sarah Palin, Rep. Michele Bachmann's name has become a kind of cultural shorthand – a conservative rallying cry and a Jon Stewart punch line.
Washington Post: Initially waved off, Hispanic advocates jump into health debate
After trying to carefully balance their interests in health-care reform and immigration, the nation's Hispanic lawmakers and largest advocacy groups are scrambling to develop a strategy to counter what they see as efforts to shortchange immigrants in health bills on Capitol Hill.
CNN: Poll: Anti-incumbent sentiment strong
When it comes to Congress, a 'throw the bums out' attitude appears to be alive and well.
CNN: Scozzafava decries 'vicious' attacks
Dede Scozzafava, the Republican New York assemblywoman who gave up her bid for a House seat late last month, is decrying the "vicious" attacks she underwent from people within her own party.
CNN: Poll: GOP makes gains in battle for Congress
With a year to go before midterm congressional elections, a new national poll suggests that Republicans are making gains but that Americans are divided over whether they'd vote for the Democratic or Republican candidate in their district.
CNN: John O'Connor, husband of former high court justice, dies at 79
John J. O'Connor III, the husband of former Supreme Court Justice Sandra Day O'Connor, died Wednesday, a statement from the court said. He was 79 and had been suffering from Alzheimer's disease.
CNN: Pawlenty heading to New Hampshire
Next month, Gov. Tim Pawlenty is heading to New Hampshire, the latest presidential proving ground the Minnesota Republican will have visited this fall.
CNN: Poll: Economy hurts Ohio Guv's re-election bid
There is more evidence Wednesday that now is not a good time to be an incumbent governor facing re-election next year.
CNN: 'It's never too late to say thank you,' Obama tells veterans
President Obama paid tribute Wednesday to those who have lost their lives in the nation's wars as well as to the men and women who currently serve.
Washington Post: Feeling the weight of war
War and tragedy are putting President Obama through the most wrenching period of his young administration. Visibly thinner, admittedly skipping meals, he is learning every day the challenges of a wartime presidency. Health-care reform, climate-change legislation, the broken economy - all are cerebral exercises compared with the grim responsibility of being the commander in chief.
USA TODAY: Security plan looks to Afghan villages in fight against Taliban
U.S. and Afghan officials have agreed on a new nationwide strategy that will funnel millions of dollars in foreign aid to villages that organize "neighborhood watch"-like programs to help with security.
New York Times: American Adviser to Kurds Stands to Reap Oil Profits
Peter W. Galbraith, an influential former American ambassador, is a powerful voice on Iraq who helped shape the views of policy makers like Joseph R. Biden Jr. and John Kerry. In the summer of 2005, he was also an adviser to the Kurdish regional government as Iraq wrote its Constitution — tough and sensitive talks not least because of issues like how Iraq would divide its vast oil wealth.
CNN: Petraeus on 2012: What about no don't you understand?
CENTCOM Commander Gen. David Petraeus is once again shooting down any suggestions that he has aspirations to run for the White House in 2012.
CNN: Jenny Sanford makes endorsement, says her family is 'resilient'
In a letter released Wednesday, Jenny Sanford, the wife of embattled South Carolina Gov. Mark Sanford, said she and her family are persevering after a difficult year in which her husband admitted to an extramarital affair. And South Carolina's first lady endorsed Republican Nikki Haley's candidacy to be the state's next governor.
NATIONAL
For the latest national news: www.CNN.com.
CNN: Wounded Fort Hood soldier describes 'swift, tactical' gunman
The gunman quickly reloaded his weapon, methodically moving away from Spc. Logan Burnette after shooting him several times during last week's deadly rampage at the Fort Hood Army Post.
CNN: At Fort Hood, day of mourning ends with celebration
The homecoming celebration Tuesday night for soldiers returning from war is like no other ever held here.
Washington Post: Army sought ways to channel Hasan's absorption with Islam
Army psychiatrists at Walter Reed Army Medical Center who supervised Maj. Nidal M. Hasan's work as a psychiatric fellow tried to turn his growing preoccupation with religion and war into something productive by ordering him to attend a university lecture series on Islam, the Middle East and terrorism, according to a Walter Reed staff member familiar with Hasan's medical training.
CNN: Profiler: Fort Hood suspect a loner
People who knew and studied Maj. Nidal Hasan say he was a loner who had no luck finding a wife, and a criminal profiler said the Fort Hood shooting suspect fits the profile of a mass murderer better than that of a terrorist.
New York Times: Questions, Not Alarms, Met Exchanges With Cleric
Last December, the vast electronic net of American intelligence captured queries that Maj. Nidal Malik Hasan of the Army was sending by e-mail to a radical cleric in Yemen who has long been a target of American surveillance.
CNN: Taking World War II veterans to see memorial before time runs out
The aging veterans gingerly walk from the plane in the nation's capital. Some get pushed in wheelchairs. A brass band strikes up World War II era tunes. Strangers rise to their feet and clap their hands.
CNN: Charges dropped against American father in Japan custody battle
Authorities have officially dropped all charges against an American who tried to snatch back his children from his ex-wife in Japan, the Fukuoka prosecutor's office said Thursday.
CNN: Ex-Blackwater official 'unaware' of any bribe plot; Iraq probing news report
A former vice president of the Blackwater private security company said he was "unaware of any plot or guidance for Blackwater to bribe Iraqi officials" as rage erupted over the killings of 17 civilians by the company's security guards more than two years ago.
Wall Street Journal: U.S. Commission to Assess Mandatory Sentences
Congress has ordered the panel that advises judges on prison terms to conduct a review of mandatory-minimum sentences, a move that could lead to a dramatic rethinking of how the U.S. incarcerates its criminals.
CNN: Dive in pool saved burned teen's life, paramedic says
It's a call that no firefighter ever wants to have to answer.
CNN: Divers find U.S. soldier's body in Afghanistan river
Military divers have found the body of a U.S. paratrooper who went missing last week in a river in western Afghanistan.
CNN: Report: Man found guilty of killing Arkansas TV anchor
After deliberating slightly more than two hours, a jury Wednesday found a man guilty of capital murder and other charges in the October 2008 death of Arkansas television anchor Anne Pressly, according to CNN affiliate KARK-TV.
New York Times: Video Bingo Has Alabamians Yelling Everything But
Everybody knows what this is: dozens of people, mostly retirees, hunched over paper grids in a smoke-filled American Legion hall on a Sunday evening listening eagerly to a woman recite numbers.
CNN: The changing debate over medical marijuana
The national conversation about medical marijuana – in particular smoked marijuana – is complex and often polarizing.
New York Times: Warhol Fetches $43.7 Million at Auction
It was the sale of the season. When a seminal Warhol — one of the artist's first silk-screen paintings — came on the block at Sotheby's auction of contemporary art on Wednesday night, the auctioneer, Tobias Meyer, opened bidding at $6 million and was stunned when a bidder instantly doubled it.
CNN: Anchor Lou Dobbs departs CNN
CNN's Lou Dobbs stepped down from his controversial role as an advocacy anchor at the network at the end of his show Wednesday night after announcing plans to seek a more activist role.
INTERNATIONAL
For the latest international news: http://edition.cnn.com/
CNN: Yemen warns against intervention in rebel conflict
Yemen told outside powers Wednesday to stay out of its battle with a Shiite rebel group in its northwest amid concerns that Iran and Saudi Arabia are being drawn into the conflict.
CNN: Blix: Iran's nuclear work raising Mideast tensions
Iran can't convince the world it doesn't want nuclear weapons as long as it is producing nuclear fuel on an industrial scale, former U.N. weapons inspector Hans Blix said Wednesday.
New York Times: Push to Build Mosques Is Met With Resistance
Paris has its grand mosque, along the Seine. So does Rome, the city of the pope. Yet despite a sizable Muslim population, this Danish city has nothing but the occasional tiny storefront Muslim place of worship.
Wall Street Journal: Brazil Blackout Sparks Infrastructure Concerns
Brazilian authorities defended the reliability of the nation's electric grid after a massive power failure Tuesday darkened about half the country and revived concerns about Brazil's ability to provide energy infrastructure to match its surging economy.
CNN: 'Let's talk about sex, divorce' in Egypt
A growing number of Egyptian women are demanding a divorce and seeking counsel for their marriages, as the social stigma against it weakens and talking about relationship problems becomes more popular in the media.
CNN: 'Witches, possessed' flock to Kenya pastor
On one Sunday each month Pastor Lawrence Omambia, the lead preacher at the Community of Christ church in Kisii, Kenya, shows off his gift - healing and exorcism.
CNN: WHO: Women's health an 'urgent priority'
Societies fail women at key moments in their lives by not offering them quality health care, which undermines their ability to reach their full potential, the World Health Organization says in a new report.
CNN: 'Hooligan' satirists jailed in Azerbaijan
Two satirical bloggers who staged an interview with a donkey were sent to prison in Azerbaijan Wednesday, following a two-month trial for assault, the father of one told CNN.
CNN: More than 200 Paraguay villagers thought sprayed with pesticide
More than 200 indigenous people who refused to vacate their land in eastern Paraguay were sprayed late last week with what some believe was pesticide, sending seven to the hospital, a government cabinet member said this week.
BUSINESS
For the latest business news: www.CNNMoney.com.
CNN: Donating this year? Uncle Sam needs your help
You've probably heard about the country's giant debt load – $12 trillion and rising.
CNNMoney: 10 states face financial peril
The same economic pressures that pushed California to the brink of insolvency are wreaking havoc on other states, a new report has found.
CNNMoney: Dow hits another 13-month high
Stocks ended higher Wednesday, with the Dow industrials finishing at a 13-month high for third straight day, after investor optimism rose on the expectation that interest rates would remain low for some time.
CNNMoney: HP to buy 3Com for $2.7 billion
Hewlett-Packard Co. announced Wednesday it will purchase networking company 3Com for $2.7 billion, and also preannounced higher fiscal fourth-quarter earnings and raised its outlook for fiscal 2010.
In Case You Missed It
To watch the latest interviews and reporting: http://www.cnn.com/video.
CNN: Cantor a GOP power player
Rep. Eric Cantor says the GOP must return to its roots of fiscal discipline and deliver a more optimistic message.
Subscribe to the CNN=Politics DAILY podcast at http://www.cnn.com/politicalpodcast.
And now stay posted on the latest from the campaign trail by downloading the CNN=Politics SCREENSAVER at http://www.CNN.com/situationroom.