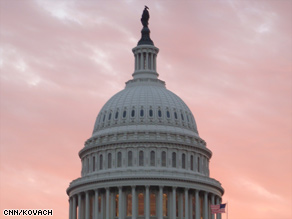 The CNN Washington Bureau's morning speed read of the top stories making news from around the country and the world.
WASHINGTON/POLITICAL
For the latest political news: www.CNNPolitics.com.
CNN: Officials: Top White House lawyer to be pushed out
In the first major shakeup among President Obama's senior staff, White House Counsel Greg Craig is being pushed out in favor of veteran Democratic lawyer Bob Bauer because of a dispute over plans to close the U.S. military prison in Cuba, CNN has learned.
CNN: Obama departs on eight-day Asia trip
President Obama embarked Thursday on his first presidential visit to Asia, an eight-day journey that will take him to five cities in four countries.
CNN: Afghan president's office asks what U.S. ambassador said
Afghan President Hamid Karzai's office contacted the U.S. ambassador to Afghanistan about reports the ambassador warned against sending more U.S. troops to the country, a Karzai spokesman told CNN Thursday.
CNN: Karl Eikenberry, Obama's man in Afghanistan
The U.S. ambassador to Afghanistan has a unique résumé: he served two tours in the country as a general, training Afghan police and troops, before trading his uniform for a diplomat's business suit.
Washington Post: A nuclear power's act of proliferation
In 1982, a Pakistani military C-130 left the western Chinese city of Urumqi with a highly unusual cargo: enough weapons-grade uranium for two atomic bombs, according to accounts written by the father of Pakistan's nuclear weapons program, Abdul Qadeer Khan, and provided to The Washington Post.
CNN: Palin: We're 'not really into the drama'
Sarah Palin and her almost-son-in-law Levi Johnston have been in a war of words for months, but the former Alaska governor told Oprah Winfrey in just-released clips of the highly-anticipated interview that he is still "part of the family."
CNN: McCain official: Palin claim 'one hundred percent untrue'
A former senior campaign adviser to John McCain is rejecting Sarah Palin's claim that she was billed for the costs of vetting her before she was selected as the Republican vice presidential nominee.
CNN: Cantor's colleagues believe he has sights set higher than Congress
As Republicans swept the top three offices in Democratic-leaning Virginia last week, Rep. Eric Cantor was in Richmond, shaking hands with supporters and rallying GOP troops as he proclaimed, "The Republican resurgence begins tonight."
CNN: RNC to end coverage for abortion
The Republican National Committee has instructed its insurance company to remove a provision from the committee's health insurance policy that covered elective abortion for employees.
CNN: Obama pays tribute to military in Alaska
President Barack Obama completed his geographic American journey Thursday, visiting his 50th state by stopping in Alaska to pay tribute to military personnel while en route to Asia.
CNNMoney: Obama to hold jobs forum in December
President Obama, facing a 10.2% unemployment rate, said Thursday he would hold a jobs forum at the White House in December.
CNNMoney: Jobless claims lowest since January
The number of Americans filing first-time claims for unemployment insurance fell last week to their lowest level this year, the government said Thursday.
CNN: Obama orders review of intelligence relating to Fort Hood
President Obama has directed a review of all intelligence in the federal government's files relating to last week's shootings at Fort Hood, especially any intelligence relating to the alleged shooter Army Maj. Nidal Malik Hasan, according to the presidential memorandum released by the White House Thursday.
CNN: Source: Reid considering hiking Medicare payroll tax
Senate Majority Leader Harry Reid is considering a provision to raise payroll taxes for the wealthy as part of a health care bill, a Democratic source told CNN.
CNN: ACORN files lawsuit over loss of federal funding
The embattled community organizing group ACORN filed a federal lawsuit Thursday challenging a law passed by Congress that denies it federal funding.
CNN: Poll shows trouble for Dodd
A new poll spells more trouble for Sen. Chris Dodd's bid for re-election.
Wall Street Journal: Health-Bill Disclosure Rule Is Resisted
Health legislation moving through Congress would force drug makers to disclose how much they spend on continuing medical education classes for doctors, sparking some resistance from the industry.
Wall Street Journal: Democrats Herald Report on Health-Care Costs
Democrats on Thursday heralded a report from the Business Roundtable on health-care costs, saying it showed their legislative efforts would reduce employers' costs in coming years.
The Hill: Big business tells Congress: 'Frightening' new proposal could 'destroy' Wall Street
Some of the world's most prominent CEOs will press New York lawmakers next Thursday to oppose legislation they argue would undermine the Big Apple's economy and its reputation as a world financial hub.
Dallas Morning News: George W. Bush outlines initiatives for public policy institute at SMU
George W. Bush outlined a wide-ranging agenda for the public policy arm of his presidential library at SMU on Thursday, providing the first glimpse of how he and wife Laura Bush plan "to continue our public service for the rest of our lives."
CNN: Pelosi weighs in on Mass. Senate battle
House Speaker Nancy Pelosi is weighing in on the battle to succeed the late Sen. Ted Kennedy.
CNN: Coakley in control of MA Democratic Senate primary
Massachusetts Attorney General Martha Coakley holds a clear lead in that state's U.S. Senate Democratic primary contest, according to a new poll out Thursday.
Boston Globe: Senate hopefuls turn up volume
In their feistiest face-off of the race, the four Democrats vying for the US Senate clashed in a radio debate yesterday over health care, congressional earmarks, charter schools, and free speech, repeatedly shouting over one another as they aired significant distinctions on policy.
CNN: McDonnell and Christie heading to RGA meeting in Texas
Fresh off their decisive victories last week in Virginia and New Jersey, governors-to-be Bob McDonnell and Chris Christie will travel to Texas next week to meet with their future GOP colleagues at the Republican Governors Association annual conference in Austin, aides to the governors-elect said.
CNN: John King to replace Lou Dobbs
Heading into the critical 2010 midterm elections, CNN will launch a new weekday political program that will be hosted by award winning correspondent John King.
NATIONAL
For the latest national news: www.CNN.com.
CNN: U.S. alleges company laundered money for Iran
The federal government moved Thursday to seize assets belonging to the Alavi Foundation and the Assa Corp., including a Manhattan skyscraper and four mosques, citing alleged links to the Iranian government.
CNN: Fort Hood suspect charged with murder
Maj. Nidal Malik Hasan has been charged with 13 preliminary counts of premeditated murder stemming from last week's shooting at Fort Hood Army Post, an Army investigator said Thursday.
CNN: Classmates: Hasan defended suicide bombings, held Islamist views
Those who knew Nidal Malik Hasan before he was a major in the Army - and the suspect in last week's mass killing at Fort Hood - say he was long known for militant Islamist views.
New York Times: Despite Physical and Mental Scars, Moving On
It seemed unlikely that Christopher Royal was going to be delivering the sermon Sunday at Shiloh Baptist Church in the tiny town of Eclectic, Ala., as scheduled. Mr. Royal, a chief warrant officer in the Army, had been shot three times in the back during the rampage at Fort Hood.
CNN: Man gets life without parole in Arkansas TV anchor's murder
A jury sentenced an Arkansas man to life in prison without parole for killing a television anchor, officials said Thursday.
Wall Street Journal: Builders Downsize the Dream Home
For the first time in four decades in the luxury-home business, executives at John Wieland builders are thinking the unthinkable: Maybe houses in the South don't really need a fireplace.
Los Angeles Times: Nuclear scars: Tainted water runs beneath Nevada desert
A sea of ancient water tainted by the Cold War is creeping deep under the volcanic peaks, dry lake beds and pinyon pine forests covering a vast tract of Nevada.
CNN: H1N1 death toll estimated at 3,900 in U.S.
Nearly 3,900 people, including about 540 children, are believed to have died from the H1N1 flu in the first six months of the epidemic, the Centers for Disease Control and Prevention said Thursday.
CNN: Feds: Man tried to extort money from Cindy Crawford, husband
A German man is facing federal charges in the United States on suspicion of trying to extort money from supermodel Cindy Crawford and her husband, using a photograph of the couple's then-7-year-old daughter, court documents said.
CNN: Dad in 'balloon boy' case turns himself in
Authorities in Colorado have filed charges against the parents in last month's notorious "balloon boy" case, and the pair's lawyers say the two are expected to plead guilty on Friday.
CNN: Facebook status update provides alibi
For 19-year-old Rodney Bradford, a simple Facebook status update turned into much more: a rock-solid alibi after he was accused of a crime.
CNN: Police: Sixth person arrested in Missouri child sex abuse case
A sixth person was arrested Thursday on suspicion of child sexual abuse in an investigation that led to the arrest of five members of a Missouri family, and authorities found additional victims in the case, police said.
CNN: Father Henry, a secret father
Nathan Halbach is 22, with a diagnosis of terminal brain cancer. He knows that "horrible stuff" lies ahead.
INTERNATIONAL
For the latest international news: http://edition.cnn.com/
CNN: Deadly car bombs explode in Pakistan
A pair of bombings in Pakistan killed at least 13 people and wounded dozens of others Friday, officials said.
CNN: Juarez business leaders petition U.N. for help with drug traffickers
In the Mexican border city of Ciudad Juarez, business leaders are so concerned about spiraling drug cartel-related violence that they have asked the United Nations to send in peacekeeping soldiers to restore calm.
CNN: Top al Qaeda leader blames Blackwater for Peshawar blasts
A senior al Qaeda leader in Afghanistan has blamed the U.S. security firm formerly known as Blackwater as being behind the recent spate of deadly attacks in the Pakistani city of Peshawar.
New York Times: Afghan Enclave Offers Model to Rebuild, and Rebuff Taliban
Small grants given directly to villagers have brought about modest but important changes in this corner of Afghanistan, offering a model in a country where official corruption and a Taliban insurgency have frustrated many large-scale development efforts.
Los Angeles Times: Dutch troops' method in Afghanistan gains new prominence
A dozen Dutch soldiers emerge from their belching armored carriers, scan the area for danger and begin setting up checkpoints outside the Sar Sheykhil police station. Today's mission: Show the flag and help train police in securing a perimeter and handcuffing suspects.
Washington Post: Israel challenged on Gazan's ejection from West Bank
Gaza-born Berlanty Azzam, 21, was two months from receiving her bachelor's degree from Bethlehem University when the past caught up with her.
CNN: India's third gender gets own identity in voter rolls
Indian election authorities Thursday granted what they called an independent identity to intersex and transsexuals in the country's voter lists.
CNN: Dog back after a year MIA in Afghanistan
An Australian special forces dog has been found alive and well more than a year after going missing in action in Afghanistan.
CNN: Enke death: What are the roots of depression?
Robert Enke, the goalkeeper for the German national football team who killed himself on Tuesday, was suffering from depression, his widow has revealed.
CNN: 2 killed in blast outside U.S. base in Kabul
Two Afghans died when a bomb exploded outside a U.S. military base on the outskirts of Kabul on Friday morning, a spokesman for NATO-led forces in Afghanistan said.
New York Times: 2 Sunken Japanese Subs Are Found Off Hawaii
Researchers on Thursday announced the discovery of two World War II Japanese submarines, including one meant to carry aircraft for attacks on American cities and the Panama Canal, in deep water off Hawaii, where they were sunk 63 years ago.
CNN: Red Cross: Camps not solution for displaced people
It was late in the evening when the gunmen came, some on horseback, others on foot, to terrorize the residents of a small settlement north of Gereida in Darfur, Sudan.
CNN: China criticized over alleged 'black jails'
Chinese authorities should abolish secret jails used to unlawfully detain citizens who travel to the capital and other major cities to file complaints, Human Rights Watch says.
CNN: Medvedev wants Russia to go hi-tech
In his annual state of the nation speech Thursday, Russian President Dmitry Medvedev painted his vision for the country's future, saying that "modernization" was the key to its "very survival."
BUSINESS
For the latest business news: www.CNNMoney.com.
CNNMoney: Fed cracks down on overdraft fees
The Federal Reserve on Thursday released a new rule to prohibit banks from automatically enrolling customers in overdraft protection programs, which charge fees when consumers spend more than they have.
CNN: British Airways, Iberia move closer to merger
British Airways and Iberia announced late Thursday that they have agreed the basis for a proposed merger between the two airlines which is expected to be completed in late 2010.
Bloomberg: Playboy Said to Be in Talks to Sell Itself to Iconix
Playboy Enterprises Inc., the men's magazine publisher, is in talks to sell itself to Iconix Brand Group Inc., according to two people close to the situation. Playboy's stock jumped 42 percent.
CNNMoney: October deficit $176 billion
October was another costly month for Uncle Sam. The Treasury Department reported on Thursday that federal coffers racked up a worse-than-expected deficit of $176.4 billion for the month.
CNNMoney: Uncle Sam sitting on a goldmine
Gold is soaring to record high prices, and guess who has the biggest stash?
In Case You Missed It
To watch the latest interviews and reporting: http://www.cnn.com/video.
CNN: Gore: 'She's got a following'
CNN's Larry King asks fmr. Vice President Al Gore on what he thinks of the fmr. Governor of Alaska, Sarah Palin.
Subscribe to the CNN=Politics DAILY podcast at http://www.cnn.com/politicalpodcast.
And now stay posted on the latest from the campaign trail by downloading the CNN=Politics SCREENSAVER at http://www.CNN.com/situationroom.