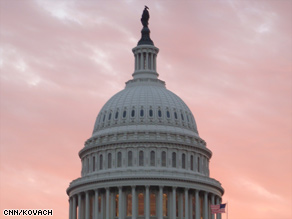 The CNN Washington Bureau's morning speed read of the top stories making news from around the country and the world.
WASHINGTON/POLITICAL
For the latest political news: www.CNNPolitics.com.
CNN: Obama: U.S., China don't have to be rivals
The United States and China don't have to be at odds, despite the challenges facing them, U.S. President Barack Obama told several hundred students at a town hall meeting Monday in Shanghai.
CNN: Dems hail, Republicans bash decision to try 9/11 suspects in New York
Fearlessly demonstrating the majesty of U.S. justice or acquiescing to terrorists by giving them undeserved rights and a public platform?
CNN: Trade to highlight Obama's China visit
U.S. President Barack Obama is expected on Monday to meet with the Shanghai mayor and hold a town hall-style meeting with "future Chinese leaders" before heading to Beijing to meet his host, Chinese President Hu Jintao.
CNN: Clinton: 'We're not interested in staying in Afghanistan' long-term
Secretary of State Hillary Clinton said Sunday the primary U.S. mission in Afghanistan is defeating al Qaeda, rather than making a long-term commitment to rebuild the country.
CNN: Holding Gitmo inmates would be economic boost, Illinois officials say
A proposal to house federal prisoners, including some detainees from Guantanamo Bay, in a largely vacant maximum-security prison would be an economic boost to struggling northern Illinois, state officials said Sunday.
Washington Post: GM to start repaying debt to U.S. government next month
General Motors is expected to announce on Monday that it will begin repaying its debt to the United States next month, years earlier than required.