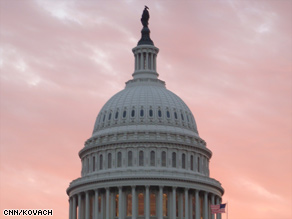 The CNN Washington Bureau's morning speed read of the top stories making news from around the country and the world.
CNN: Obama, Hu envision cooperative future
Chinese President Hu Jintao and U.S. President Barack Obama talked in Beijing on Tuesday of a cooperative future of shared responsibilities and economic opportunities.
Wall Street Journal: Beijing Limits Obama's Exposure
As he dives into the heart of his trip to China, U.S. President Barack Obama is finding it hard to bring his trademark charisma to bear.
CNN: Task force opposes routine mammograms for women age 40-49
Women in their 40s should not get routine mammograms for early detection of breast cancer, according to updated guidelines set forth by the U.S. Preventive Services Task Force.
Los Angeles Times: National intelligence director to evaluate CIA missions
Sensitive CIA operations overseas will face new scrutiny from the nation's intelligence director under a plan approved by the White House and outlined in a memo to the espionage workforce last week.
CNN: Senator's stance likely to help health care overhaul
Sen. Ben Nelson, D-Neb., who last week insisted that the Senate health care bill include tight restrictions passed by the House on the use of federal money for abortion coverage, now says he would be satisfied with the less restrictive language approved by the Senate Finance Committee.
CNNMoney: 1 in 6 Americans goes hungry
The number of Americans that have trouble putting food on the table shot up last year in an unprecedented spike to a record 17 million households, the government reported on Monday.
New York Times: Disagreement Over Goals at U.N. Meeting on Hunger
A United Nations summit meeting on combating hunger that opened in Rome on Monday underscored the split between rich and poor countries on the issue, with the industrialized nations balking at concrete targets.
CNN: Americans see China as economic threat
Americans are split over whether China represents a military threat to the United States - but there is no doubt in the public's mind that the country poses an economic threat, according to a new national poll.
New York Times: When the Budget Director Talks, People Will Listen
Most people have never heard of Douglas W. Elmendorf. But all of official Washington is waiting to hear what he has to say.
Washington Post: A centrist in health-care debate, Lincoln hears it from all sides
When the Senate begins floor debate on a health-care reform package this week, the outcome is almost certain to rest on decisions made by a handful of moderate Democrats.
Los Angeles Times: White House healthcare accord with drug industry may be going sour
Congressional Democrats' intensifying efforts to pay for their healthcare overhaul and provide more relief for consumers are threatening to unravel a White House deal with the pharmaceutical industry and turn one of Washington's most powerful lobbies against the legislation.
ABC News: Obama Admin Slashed 60,000 Jobs From Recent Stimulus Report
The Obama administration, under fire for inflating job growth from the $787 billion stimulus plan, slashed over 60,000 jobs from its most recent report on the program because the reporting outlets had submitted "unrealistic data," according to a document obtained by ABC News.
Wall Street Journal: Bernanke Warns of Weakened Economic Rebound
Federal Reserve chairman Ben Bernanke offered a dreary assessment Monday of how the economic recovery will unfold, warning that persistent high unemployment, tepid bank lending and continued troubles in commercial real estate would blemish and weaken the rebound.
CNN: IAEA report raises concerns about Iranian nuclear facilities
In a report published Monday, the United Nations nuclear watchdog group says Iran's disclosure of a previously secret nuclear facility near Qom raises questions about the existence of other such facilities.
CNN: 'Communist Obama' T-shirt tussle
Our search for the so-called "communist Obama" T-shirt began with a capable intern scouring markets in Beijing. It depicts U.S. President Barack Obama wearing a Red Army uniform, the "Chinese communist-style" outfit made famous by Chairman Mao. On the front it says, "Serve the People" in Chinese. On the back, "Oba-Mao" in English.
New York Times: Taint of Corruption Is No Barrier to U.S. Visa for Millionaire
Several times every year, Teodoro Nguema Obiang arrives at the doorstep of the United States from his home in Equatorial Guinea, on his way to his $35 million estate in Malibu, Calif., his fleet of luxury cars, his speedboats and private jet. And he is always let into the country.
POLITICO: One-man crusade taking toll on Ensign
Five months after Sen. John Ensign admitted to having an extramarital affair with a staffer, the scandal is still in the headlines — in large part because the husband of his onetime lover keeps making them.
BBC: Iraq election is 'Herculean task'
The UN's special envoy to Iraq has said it will be a "Herculean task" to ensure basic standards are met before Iraq's planned national elections in January.
Sarah Palin tells Oprah about controversies, future
When Sarah Palin got a surprise phone call from the McCain campaign one August afternoon, asking whether she'd like to be on the Republican presidential ticket, the then-Alaska governor didn't doubt for a moment she was ready for the challenge.
USA Today: Grifters cash in on stimulus aid
State and federal officials say they are fielding thousands of reports of scam artists, many operating from overseas, using the promise of money from the Obama administration's $787 billion economic recovery plan to entice people to hand over bank account numbers. The scams are so numerous, and the criminals hard to identify, that authorities say it's all but impossible to catch them.
CNN: Atlantis blasts off towards space station
Space shuttle Atlantis launched Monday afternoon to deliver key spare parts to prolong the life of the International Space Station.The shuttle lifted off as scheduled, at 2:28 p.m. ET from the Kennedy Space Center near Cape Canaveral.
Subscribe to the CNN=Politics DAILY podcast at http://www.cnn.com/politicalpodcast.
And now stay posted on the latest from the campaign trail by downloading the CNN=Politics SCREENSAVER at http://www.CNN.com/situationroom