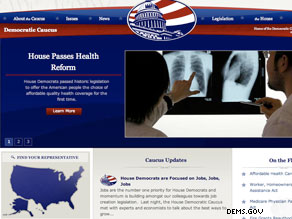 The new Web site for the House Democratic Caucus.
WASHINGTON (CNN) - The House Democratic Caucus re-launched their Web site late last week, aiming for a more Facebook-esque feel. While the site is still in beta, CNN got the first look at Dems.gov and some of its new features.
In the past, one could look up individual representatives' Web sites, which are not always well-designed, or view the House Clerk's Web site, which is clunky with bill numbers and legislative jargon.
The Democrats are focused on making the site more user-friendly, with the center of the page designed to emulate the Facebook news feed. Caucus updates appear in a linear fashion and below are the representatives' headshots along with excerpts from their latest press releases, linking to their personal sites.
Another feature includes a Google Map, making it easy for users to find Democratic representatives and access their home pages, their YouTube page and their Facebook Page.
On the other side of the aisle, the Republican site GOP.gov claims its unique features include a dynamic blog, a prominent RSS feed and a larger number of social media outlets including Flickr and even an iTunes account.
The Democratic Caucus is looking for feedback on the new site. Following in the WhiteHouse.gov footsteps, Dems.gov was built using an open source content management system, which allows the worldwide community of programmers to view code and makes it easy to improve the site based on user feedback.