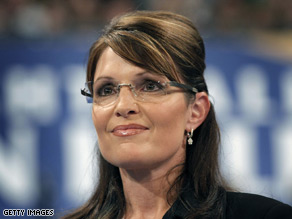 Palin book tour kickoff takes her back to Michigan.
(CNN) - Sarah Palin has finally returned to Michigan.
"I just can't tell you how good it is to be back in Michigan," Palin told a large crowd outside a Barnes and Noble bookstore in Grand Rapids Wednesday, the first stop in the former Alaska governor's bus tour for her new book, "Going Rogue: An American Life."
The former Republican vice presidential nominee wore a red and black jacket and black shirt and carried her son Trig as she emerged from the bus, which was emblazoned with the book's cover.
John McCain's running mate took issue last year with his campaign's decision to pull out of Michigan and move resources to other states. In her book, Palin says her opposition to the decision to abandon Michigan is when she first went rogue. At the end of the book, on page 403, Palin says that Michigan can't be forgotten.
McCain ended up losing the state to Barack Obama by 16 points in last year's presidential election.

"Alaska and Michigan have so much in common with the huntin' and the fishin' and the hockey moms," said Palin Wednesday, adding that Michigan is "the heart of industry in America."
Before entering the store to sign books, Palin thanked the large crowd for "showing up for the book, so that you can read my words unfiltered."
Follow Paul Steinhauser on Twitter: @psteinhausercnn