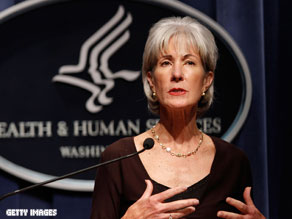 Sebelius: New guidelines are 'not coverage decisions'.
Washington (CNN) - Health and Human Services Secretary Kathleen Sebelius stressed Wednesday that government funded programs will continue to cover routine mammograms, despite a federal advisory board's recommendations that women in their 40s should not regularly get tested for breast cancer.
"They are making recommendations, not coverage decisions, not payment decisions and the government payers have decided we will continue to cover both Medicare and Medicaid patients who have mammograms routinely," Sebelius told CNN's Wolf Blitzer. "We will continue to recommend it, and the health plans have indicated that they will do the same, if the health care provider recommends a mammogram for a patient, they intend to cover that payment."
Earlier in the day, Sebelius addressed the U.S. Preventive Services Task Force's recommendation that women in their 40s not get routine mammograms, saying they "caused a great deal of confusion and worry." She emphasized again on CNN that they "don't make coverage decisions" and advised women to go to their doctors to decide when and how often to get mammograms.
"What we know is that mammograms definitely save lives," Sebelius said. She added, "We want women to have a doctor, take the information, but then have that conversation about your own health history, what the risks are of having a mammogram versus the benefits and make a determination based on an informed decision."