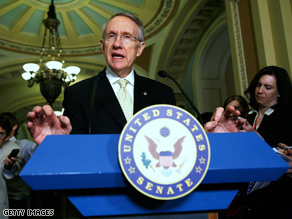 Senate Majority leader unveils chamber's health care proposal.
Washington (CNN) - Senate Majority Leader Harry Reid on Wednesday unveiled a sweeping health care bill that would expand health insurance coverage to 30 million more Americans at an estimated cost of $849 billion over 10 years.
Reid and other Senate Democrats cited an analysis by the non-partisan
Congressional Budget Office for the coverage and cost figures. In addition, they told a news conference, the CBO estimated the proposal would reduce the federal deficit by $127 billion over the next 10 years and by more than $600 billion in the following decade.
The proposal drafted from two separate bills approved by Senate committees now goes to the full Senate, where Republicans have vowed to try to block it.