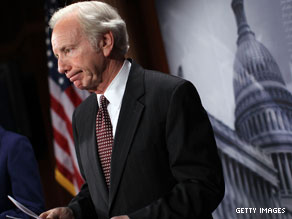 Lieberman told reporters on Capitol Hill that he would begin hearings Thursday.
Washington (CNN) - The heads of two key congressional committees said Wednesday they are stepping up their investigation into the November 5 shootings at Fort Hood, Texas.
Senate Homeland Security Committee Chairman Joe Lieberman, I, Connecticut, told reporters on Capitol Hill that he would begin hearings Thursday focusing on what authorities knew about alleged shooter Nidal Malik Hasan before the incident.
The committee will seek to determine whether the attack could have prevented, and what it means in terms of the government's ability to defend against potential terrorist attacks within the United States.
Senate Judiciary Committee Chairman Patrick Leahy, meanwhile, released the text of a letter he sent to the White House requesting the results of the joint investigation into the shootings now being conducted by the FBI and the Army.

President Barack Obama has ordered the investigation's findings to be submitted to his national security adviser by November 30.
Leahy's request is consistent with "my constitutional obligation to conduct rigorous congressional oversight," the Vermont Democrat wrote in the letter.
Authorities say Hasan, a U.S. Army psychiatrist, opened fire at a military processing center at Fort Hood Army Post, killing 13 people. Dozens of others were wounded.
We have "an important responsibility ... to determine whether the federal government could have prevented the murders at Fort Hood," Lieberman said.
"We are not interested in political theater. We are interested in getting the facts and correcting the system."
He called the shootings "the most destructive terrorist attack" on U.S. soil since September 11, 2001.
On Tuesday, Republican members of the House Intelligence Committee sent a letter to Speaker Nancy Pelosi calling for an immediate congressional investigation into circumstances surrounding the Fort Hood massacre.
"The record appears to establish significant intelligence and intelligence-sharing failures that must be reviewed and addressed immediately to ensure that the American people receive the fullest protection against potential attacks," the Republicans wrote.
A U.S. intelligence official countered that the incident at Fort Hood did not appear to be the consequence of insufficient intelligence sharing among appropriate agencies.
"The assertion that we have not and did not use available intelligence tools is patently false," said Wendy Morigi, spokeswoman for the director of national intelligence.
–CNN's Pam Benson contributed to this report