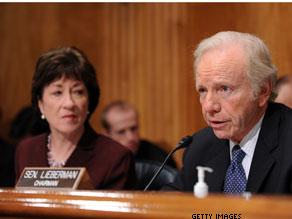 Congress opens investigation into Fort Hood massacre .
WASHINGTON (CNN) - A key congressional committee opened its investigation Thursday into the November 5 Fort Hood shootings with a pledge to find out if authorities failed to "connect the dots" and could have prevented the attack.
The head of the committee promised the inquiry would not interfere with a separate investigation into the shootings being conducted by Defense Secretary Robert Gates and Attorney General Eric Holder.
"Their investigation looks backward and is punitive. Ours looks forward and is preventive," said Senate Homeland Security Committee Chairman Joe Lieberman, I-Connecticut,
Authorities say Nidal Malik Hasan, a U.S. Army psychiatrist, opened fire at a military processing center at Fort Hood Army Post, killing 13 people. Dozens of others were wounded.

Wary of anti-Muslim backlash, Lieberman said the committee will carry out its investigation "with respect for the thousands of Muslim Americans who are serving in the American military with honor and the millions of other patriotic, law-abiding Muslims who live in our country."
But, he added, "we do no favor to all our fellow Americans who are Muslim by ignoring real evidence that a small number of their community have, in fact, become violent Islamists and extremists."
Lieberman said the committee's investigation will focus on whether concerns raised by Hasan's colleagues about his "mental stability and political extremism" were dealt with appropriately by senior Army officials.
Among other things, a memo reportedly written two years ago by Hasan's supervisor at Walter Reed Army Medical Center says Hasan demonstrated "a pattern of poor judgment and a lack of professionalism" during his residency at the hospital.
CNN could not corroborate the authenticity of the memo, which was obtained by National Public Radio.
Lieberman also said the committee will examine a lack of response by federal authorities after uncovering an exchange of e-mails between Hasan and a radical cleric accused of having ties to al Qaeda.
The FBI reportedly was aware of communication between Hasan and Anwar al-Awlaki, a Yemeni-American cleric who has promoted jihad against the United States and other Western countries.
Third, he noted, the committee will look into whether information on Hasan gathered by a joint terrorism task force was shared with officials in the Army, the Defense Department or elsewhere.
"This case ... raises questions about whether or not restrictive (federal) rules have a chilling effect on the legitimate dissemination of information, making it too difficult to connect the dots that would have allowed a clear picture of the threat to emerge," said Maine Sen. Susan Collins, the ranking Republican on the committee.
The committee heard testimony from, among others, former Army Vice Chief of Staff Gen. John Keane and New York City Police Department intelligence analyst Mitchell Silber.