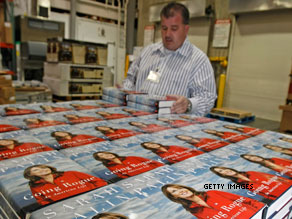 Parnell on Palin book: 'I have enjoyed it'
Cedar Creek, Texas (CNN) - Alaska Gov. Sean Parnell said Thursday he has read "significant portions" of Sarah Palin's new memoir and called it "a great re-telling of her story thus far."
Parnell, who succeeded Palin in Juneau when she resigned her office in July, said he read parts of the book during his flight from Alaska to Texas, where he is attending the Republican Governors Association's annual conference. Palin did not send him a copy of the book, he said.
"It's such a conversational tone, and there is so much in there that I have lived with her, except for the presidential campaign," Parnell told CNN. "I have enjoyed it."
But Parnell said Alaskans have moved on from the drama of the 2008 campaign and are now primarily concerned with local economic issues.
"Most of our focus has returned to our state issues, the gas line, resource development," he said. "People are just concerned about their jobs, just like here. People are focused on the economy.