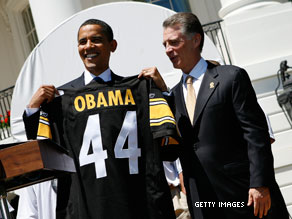 President Obama to appear with NFL players for Thanksgiving public service announcement.
Washington (CNN) - Several White House officials confirm President Obama will appear in a public service announcement with NFL players DeMarcus Ware, Drew Brees, and Troy Polamalu. The 90-second spot will air during the NFL Thanksgiving games, and a shorter version will run throughout the football season.
The ad has Obama playing touch football on the White House lawn with local children and the Pittsburgh Steelers safety Polamalu, New Orleans Saints quarterback Brees, and Dallas Cowboys linebacker Ware. The spot is to promote the NFL's Play 60 campaign which tackles childhood obesity by encouraging physical exercise, and Mr.Obama's community service project United We Serve. During the spot the president wears a Chicago Bears jacket recognizing his home team.