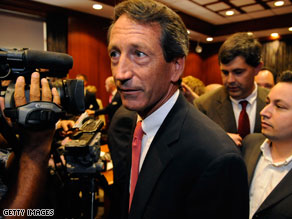 Sanford impeachment measure to be formally considered.
(CNN) - A special House committee in South Carolina will formally consider an impeachment resolution against Gov. Mark Sanford for the first time next Tuesday, the Republican chairman of the committee told CNN Friday.
The resolution, filed by a handful of House Republicans earlier this week, will be examined by an ad hoc committee of seven lawmakers from both sides of the aisle.
The group will meet for the first time next week, after Sanford provides the legislature with the results of a state Ethics Commission investigation into the governor's travel expenses, Judiciary Committee chairman Jim Harrison said.
The first meeting of the special committee on Tuesday will likely focus on Sanford's infamous trip to Argentina this summer, which led to revelations of an extramarital affair and calls for his resignation. Harrison said the group will then spend the Thanksgiving holiday poring over the Ethics Commission report before meeting again in December to include any additional language in the resolution.

The measure currently states that Sanford committed "serious misconduct" by secretly leaving the state in June without informing his staff or establishing a chain of command.
Harrison said "the game plan" is for the four Republicans and three Democrats in the group to finalize the language in the resolution before passing it on to the full Judiciary committee, which will then vote in January on whether the measure should be sent to the full House.
Harrison noted that he spoke to House speaker Bobby Harrell, a fellow Republican, on Monday night to discuss the plan.
For Sanford to be removed from office, two-thirds of South Carolina's House and the Senate must vote in favor of impeachment.