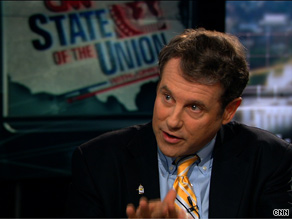 Sen. Brown said Sunday that he thinks key moderates in the Senate Democratic Caucus will decide they don't want to be on 'the wrong side of history.'
Washington (CNN) – A liberal Senate Democrat said Sunday that he thinks four key moderate members of the Senate Democratic Caucus will ultimately support Democratic efforts to pass a health care reform bill.
Composed of 58 Democrats and two Independents who caucus with the Democrats, the Senate Democratic Caucus potentially has the 60 votes necessary to break a Republican filibuster of the health care reform bill crafted by Senate Majority Leader Harry Reid. But Democratic Sens. Ben Nelson of Nebraska, Blanche Lincoln of Arkansas, and Mary Landrieu of Louisiana along with Democrat-turned-Independent Sen. Joe Lieberman of Connecticut have all expressed substantive concerns about various provisions of the bill crafted by Senate Majority Leader Harry Reid and now set for debate before the Senate. Lincoln, Landrieu, and Lieberman have also said they do not want a public health insurance option in the final bill while Nelson has raised concerns about coverage for abortion and other issues.
On Sunday's State of the Union, Ohio Democratic Sen. Sherrod Brown said he thought all four would ultimately back the Democratic bill.
"I think, in the end, I don't want four Democratic senators dictating to the other 56 of us and to the country, when the public option has this much support, that it's not going to be in [the final bill]," Brown told CNN Chief National Correspondent John King.
"But in the end," Brown added, "I think that all four of our colleagues survey this – look at this bill in the end and say – I don't think they want to be on the wrong side of history. I don't think they want to go back and say, you know, on a procedural vote, I killed the most important bill of my political career. I don't think they want to be there on that. So, I think in the end, we get them."

Brown also expressed concern Sunday about the measures Majority Leader Reid reportedly took to win the votes of Landrieu and Nelson in order to begin debate on the bill. To obtain Landrieu's support for a crucial vote Saturday night, Reid reportedly included a provision in the bill that could provide Louisiana with up to $300 million in additional Medicaid funding and to win Nelson's allegiance, Reid reportedly removed a provision that would have repealed a long standing federal antitrust exemption granted to the insurance industry.
"Nobody likes these kinds of – any kinds of deals. I think anything that's done [to get votes] needs to be in the best – in the best interests of those states and this country. I think those probably helped – if that in fact, really happened, I have no way of knowing if it did. I suppose that helped a lot of people in Louisiana that don't have insurance, and so I think we move forward.
"We do what we need to do within ethical bounds. We do what we need to within practical bounds... keeping this bill – keeping the costs down and keeping this bill budget-neutral or better," the Ohio Democrat also said Sunday.
New Hampshire Democratic Sen. Jeanne Shaheen echoed Brown's remarks on taking measures to hold Senate Democrats together and maintain the 60 votes needed to move the bill through the Senate.
"In the end, this is going to be a compromise," Shaheen told CNN Chief National Correspondent John King. "It's not going to be a perfect bill but it's going to be a very important starting point."
After emphasizing the need to bring health care costs under control and improve outcomes relative to the amount of health care dollars spent, Shaheen said, "we've got to change the way we do things. That's what this legislation is about."