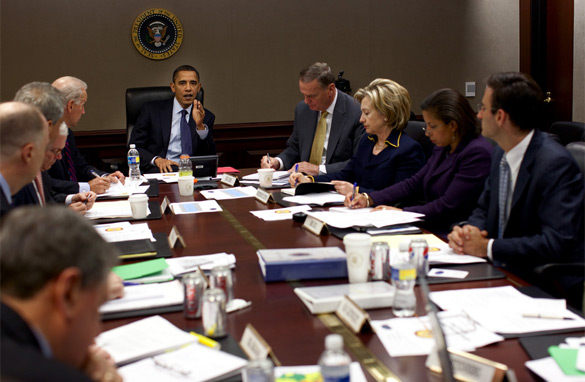 The president met with key advisors in the White House Situation Room Monday night. (White House photo)
Washington (CNN) - President Obama will announce within days whether he will send more troops to Afghanistan, the White House said after he met with his national security team Monday night.
"After completing a rigorous final meeting, President Obama has the information he wants and needs to make his decision and he will announce that decision within days," White House spokesman Robert Gibbs said.
The U.S. commander on the ground has asked for more troops and Republicans have criticized Obama for the drawn-out consideration process. The White House has defended its timetable, saying the president wants to get the decision right, not fast.
Monday's meeting, which ended at 10 p.m., included Vice President Joe Biden, Defense Secretary Robert Gates, Joint Chiefs of Staff Chairman Adm. Michael Mullen, Afghanistan commanding Gen. Stanley McChrystal, U.S. Ambassador to Afghanistan Karl Eikenberry and other senior officials.