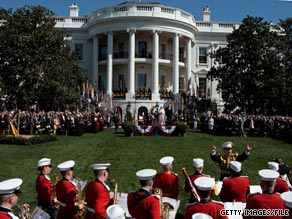 The White House released more of its visitor logs Wednesday.
Washington (CNN) - Did 007 visit the White House? How about Air Jordan, or rock guitarist Warren Haynes?
A list of White House visitors released Wednesday provided those intriguing possibilities, with a catch.
In the case of Jordan, it was someone who shares the same name as the basketball legend, rather than Michael himself, according to a White House blog post by Norm Eisen, special counsel to the president for ethics and government reform.
There was no immediate response to a CNN query about whether the Roger Moore on the list was indeed the actor best known for his James Bond movies, or if the Warren Haynes who visited is the guy who jams with the Allman Brothers Band, Gov't Mule, the Dead and others.
The list of more than 2,000 White House visits covered the period from President Barack Obama's inauguration in January through August. It was the second release of visitor names under Obama's unprecedented step of making such information public as part of an effort to improve transparency.

"Today's release advances the president's historic commitment to increasing government transparency and openness," said Eisen's blog post.
Overall, the information showed that Cabinet members don't stop by as often as expected, while celebrity visitors have included Oprah Winfrey, George Clooney and possibly Moore.
Eisen's post noted that another Moore on the list, first name Michael, is not the creator of "Fahrenheit 9/11" and other films.
Political figures included New York Mayor Michael Bloomberg (four times), former White House Chief of Staff John Podesta (seven times) and former Secretary of State Gen. Colin Powell (twice).
Republican Sen. Olympia Snowe of Maine, a key figure in the congressional debate on a health care overhaul bill, made a visit, and Democratic Sen. Kirsten Gillibrand of New York, who filled the seat of Hillary Clinton when she became secretary of state, dropped in five times.
Another frequent visitor was General Electric Chief Executive Jeffrey Immelt (six times), while CNN's Wolf Blitzer made three visits.