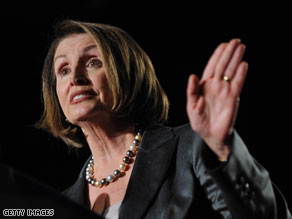 House Speaker Nancy Pelosi says a war surtax does not have 'a good prospect.'
Washington (CNN) - Speaker Nancy Pelosi Tuesday poured cold water on a proposal by several top House Democrats to impose a new surtax to pay for the war in Afghanistan.
Pelosi told CNN, "I think the war has to be paid for. That may be one option, but I don't think that has a good prospect."
The surtax proposal–a graduated tax on most taxpayers–was put forth recently by a number of senior Democrats and close allies of Pelosi, including: House Appropriations Chairman David Obey, D-Wisconsin; Defense Appropriations Subcommittee Chairman John Murtha, D-Pennsylvania; Ways and Means Committee Chairman Charlie Rangel, D-New York; and House Democratic Caucus Chairman John Larson, D-Connecticut.
Pelosi, who has expressed concerns about increasing the U.S. military presence in Afghanistan, is scheduled to meet with President Obama Tuesday afternoon to hear details on his new war strategy. She declined to comment on the President's decision to send another 30,000 troops.
"What I've said to the members is: Listen to what the President has to say. Give him room to give his justifications. We will all have something to say about it then."