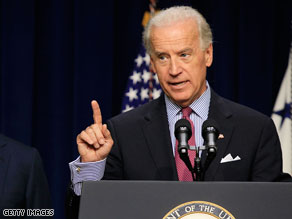 Vice President Joe Biden said it's time for Afghan President Hamid Karzi to 'step up to the ball'.
(CNN) – Echoing major points in President Obama's prime speech Tuesday, Vice President Biden emphasized that the biggest threat to the U.S. remains Al Qaeda, and called on Afghan President Hamid Karzai to "step up to the ball."
"The existential threat to the United States remains in the mountains in Pakistan," Biden said during an interview with the CBS 'Early Show.' "That's where we have to keep our focus."
Biden also charged that "Karzai and his government … up until now has been unwilling to step up to the ball.
"Fellas, you've got to step up to the ball," Biden said of the Afghan president and government.
The vice president added: "Number one priority: Al Qaeda. Number two: Pakistan. Number three: [G]iving the Karzai government a fighting chance to be able to sustain itself."
Biden appeared on all three of the major networks Wednesday morning.
- CNN's Emily Sherman contributed to this report.