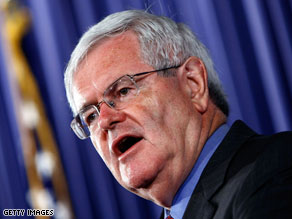 Newt Gingrich is holding his own job summit Wednesday.
Washington (CNN) - Newt Gingrich kicks off a series of town halls on jobs Wednesday, one day before President Obama holds a jobs forum at the White House.
The former House speaker will hold what his American Solutions organization calls a "real jobs summit" in Cincinnati, Ohio. The group says a second event will be held Thursday in Jackson, Mississippi. That's the same day Obama holds his forum in Washington, which the White House says will include representatives from business, organized labor, and academia, among other sectors.
"Our 'real jobs summit' in Cincinnati will be a town hall format and is free and open to the public. We expect over 500 people comprised of small business owners, entrepreneurs, and community leaders in the Cincinnati area," says American Solutions spokesman Dan Kotman. "Speaker Gingrich will give opening remarks followed by an opportunity for audience members to ask questions, share stories about what has worked for their business, and provide input on our 'Jobs Here, Jobs Now, Jobs First' plan."
Kotman says additional town halls will be announced next year.
The president heads to Allentown, Pennsylvania on Friday, to kick off a listening tour on the economy. The administration says the event in Allentown, known for its industrial struggles.
The nation's unemployment rate now stands at 10.2 percent, the highest level in more than a quarter century.
"Our economy's growing again, for the first time in more than a year, and we know that economic growth is a prerequisite for job growth," Obama said last month, after meeting with his cabinet. "But having said that, what I emphasize today is we cannot sit back and be satisfied, given the extraordinarily high unemployment levels that we've seen."
But Gingrich takes issue with Obama's economic programs.
"President Obama's upcoming 'Jobs Summit' in Washington, DC is an acknowledgment that the big government stimulus package failed to create jobs. For an administration that is actively promoting job-killing health care, energy, and big labor legislation, holding a 'Jobs Summit' is deceiving political theater in the midst of millions of Americans struggling to find work," the possible 2012 GOP presidential hopeful said in a statement last month.
"Beginning in Cincinnati, we will be traveling the country talking to small business owners and entrepreneurs – the engines of growth in our economy – to get their ideas on how to create jobs and grow the economy," added Gingrich.
Follow Paul Steinhauser on Twitter: @psteinhausercnn