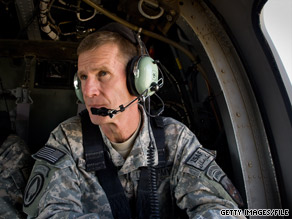 Kabul, Afghanistan (CNN) - America's commander in Afghanistan directly addressed those who will carry out President Obama's strategy for the war there.
Gen. Stanley McChrystal focused on goals and the mission during Wednesday's videoconference for headquarters staff of the NATO-led International Security Assistance Force and commanders of American troops.
"It is very important that we are clear about what we are doing," McChrystal said. "The whole world is watching. The whole world is listening. We must make sure we are of one mind."