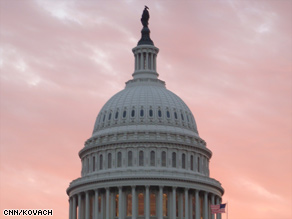 The CNN Washington Bureau's morning speed read of the top stories making news from around the country and the world.
WASHINGTON/POLITICAL
For the latest political news: www.CNNPolitics.com
Washington Post: Gates: 'No deadlines' on troop withdrawal
The withdrawal of U.S. forces from Afghanistan, scheduled to begin in July 2011, will "probably" take two or three years, Defense Secretary Robert M. Gates said Thursday, although he added that "there are no deadlines in terms of when our troops will all be out."
Los Angeles Times: Obama homed in on an Afghanistan pullout date
It started out as a projection from the military, intended only for the ears of the president and his top advisors. But in a war council meeting at the White House less than a month ago, Obama proposed making it public.
Foreign Policy: Is there a new Pakistan policy or not?
In his landmark strategy speech Tuesday, President Obama stressed the importance of Pakistan to the success of the fight against terrorism and extremism in South Asia, but he didn't offer many details. One reason could be that there are no new concrete deliverables or changes in approach related to Pakistan to announce, and all of the ideas Obama has for advancing the relationship are waiting for Pakistani buy-in.
New York Times: C.I.A. Authorized to Expand Use of Drones in Pakistan
The White House has authorized an expansion of the C.I.A.'s drone program in Pakistan's lawless tribal areas, officials said this week… American officials are talking with Pakistan about the possibility of striking in Baluchistan for the first time — a controversial move since it is outside the tribal areas — because that is where Afghan Taliban leaders are believed to hide.
Washington Post: Reid's recipe for getting health-care deal done
Of the Democratic senators who have set out to transform the nation's health-care system, one of the least likely is Majority Leader Harry M. Reid, whose legislative priorities typically fall more toward protecting the interests of his native Nevada.
CNN: Senate OKs health care amendment on mammogram access
The chamber approved a Democratic-sponsored amendment to provide women with low-cost mammograms and other preventative tests, while rejecting a GOP proposal to prevent government boards from influencing coverage of screening tests for women.
CNN: White House aide avoids testifying on security breach
The White House is being accused stonewalling as Congress investigates the party-crasher security breach at President Obama's first state dinner last week.
Politico: No subpoena for Desiree Rogers
Three Secret Service officers who let a gate-crashing couple through a checkpoint at last week's White House state dinner have been placed on administrative leave — and could face unspecified disciplinary actions, the agency's director said. The House Homeland Security Committee is also preparing to issue a subpoena to Tareq and Michaele Salahi, though the panel shot down a Republican attempt to subpoena White House social secretary Desiree Rogers.
Houston Chronicle: White, Perry lock down governor bids
Mayor Bill White will formally enter the race for governor today, instantly becoming the Democrats' best hope of winning a statewide office in seven years.
USA Today: Georgia House speaker quits amid lobbying scandal
Georgia House Speaker Glenn Richardson, once seen as a strong Republican candidate for governor, is resigning his seat, three days after his ex- wife accused him on television of having an affair with a lobbyist pushing legislation he co-sponsored.
Washington Times: Gore cancels climate conference event
Former Vice President Al Gore on Thursday abruptly canceled a Dec. 16 personal appearance that was to be staged during the United Nations' Climate Change Conference in Copenhagen, which begins next week.
NATIONAL
For the latest national news: www.CNN.com
New Hampshire Concord Monitor: Firms were Ponzi fronts, lawyer says
Two Lakes Region investment companies that closed abruptly last month were fronts for a massive Ponzi scheme that may have cost investors as much as $100 million, a lawyer for the trustee overseeing the companies' bankruptcy told a federal judge yesterday.
Boston Globe: Cold cash gains new warmth as holiday gift in hard times
In many households, something with a little less flash will be under the Christmas tree: cash, certificates of deposit, and college savings accounts. More than 44 percent of consumers say they are planning to give the gift of green this holiday season because of the economy, compared with 41.9 percent in 2008, according to a Western Union survey.
Los Angeles Times: San Diego-area agents seize thousands of fake toys
Thousands of counterfeit toys were seized in recent weeks by federal agents at ports of entry in the San Diego area, authorities said today. The fake toys, valued at more than $1.6 million, were shipped in commercial containers that entered at border checkpoints and at the Port of San Diego, according to U.S. Customs and Border Protection.
INTERNATIONAL
For the latest international news: http://edition.cnn.com
Der Spiegel: NATO Promises Troops, Some Members Stall
NATO has promised to send at least 5,000 more soldiers to Afghanistan. The question is: Where will they come from? Some nations, including Germany, say they will not make any decisions until next year, while other nations are saying that their soldiers can go - but not fight.
BBC News: Bin Laden 'seen in Afghanistan'
A Taliban detainee in Pakistan claims to have information about Osama Bin Laden's whereabouts in January or February of this year. His claims cannot be verified but a leading American expert says his account should be investigated.
The Guardian: Vladimir Putin hints at return to presidency
Vladimir Putin has given his clearest hint yet that he is preparing to get back his old job as president during a masterful performance at his annual question and answer session with the Russian public.
BBC News: UN body probes climate e-mail row
The United Nations panel on climate change is to probe claims UK scientists manipulated global warming data to boost the argument that it is man-made.
BUSINESS
For the latest business news: www.CNNMoney.com
Bloomberg: Bank of America's $19.3 Billion Is Biggest U.S. Sale Since 2000
Bank of America Corp., the largest U.S. lender, raised $19.3 billion selling securities at $15 apiece in the biggest sale of stock or preferred shares by a U.S. public company since at least 2000.
CNN: Bernanke faces fire at confirmation hearing
Federal Reserve Chairman Ben Bernanke got a rough going over from both his supporters and detractors at his Senate confirmation hearing Thursday.
Bloomberg: Bernanke May Get Second Term at Fed Shorn of Bank Supervision
Federal Reserve Chairman Ben S. Bernanke left a Senate confirmation hearing with support for a second term heading a central bank that may be shorn of its powers to supervise financial firms.
Wall Street Journal: Dubai: A High Rise, Then a Steep Fall
As financial crisis roiled much of the world in October 2008, the head of Dubai's biggest state-owned developer unveiled his latest megaproject: a $38 billion development that would include a tower nearly two-thirds of a mile tall.
CNNMoney: Obama to business: We need jobs
President Obama called on business leaders Thursday to help the administration kickstart hiring as policymakers contend with rising unemployment that's weighing down the economy.
Christian Science Monitor: Six ideas Obama heard at the White House job summit
President Obama heard ideas ranging from tax credits to infrastructure spending at his White House jobs summit. Some combination is likely to emerge, but federal resources are limited.
USA Today: Could Comcast deal change TV as we know it?
Comcast's deal to buy a controlling stake in NBC Universal has kicked off a vigorous debate: Will it change news and entertainment for the better? Comcast CEO Brian Roberts says his company will "enhance consumer choice and accelerate the development of new digital products."
Wall Street Journal: Hearst Plans Digital Magazine, Newspaper Service
Publisher Hearst Corp. plans to launch next year a service called Skiff to sell digital versions of newspapers and magazines on electronic readers and other devices, in a system it believes will be more visually appealing to readers and more lucrative for media companies.
In Case You Missed It
Leaderless agency: TSA
http://www.cnn.com/video/#/video/politics/2009/12/03/meserve.tsa.leader.cnn
U.S. avoiding past mistakes?
http://www.cnn.com/video/#/video/politics/2009/12/03/dougherty.charlie.wilson.redux.cnn
Subscribe to the CNN=Politics DAILY podcast at http://www.cnn.com/politicalpodcast
And now stay posted on the latest from the campaign trail by downloading the CNN=Politics SCREENSAVER at http://www.CNN.com/situationroom