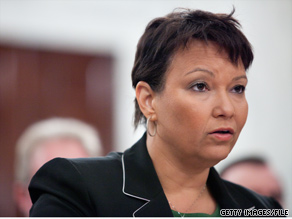 Before heading overseas for the Copenhagen climate talks, EPA chief Lisa Jackson will make an announcement about greenhouse gases.
Washington (CNN) - The Environmental Protection Agency will announce Monday that greenhouse gases pose a threat to public health and welfare, two senior administration officials told CNN.
The anticipated announcement by EPA administrator Lisa Jackson stems from a Supreme Court ruling which ordered the agency to determine the impact of carbon emissions not only on the environment, but on public health.
Immediately after the announcement, Jackson will head to Copenhagen, Denmark, to participate in the Copenhagen Climate Conference ahead of President Barack Obama's appearance on Friday.
Her statement could provide proof to the conference that the agency and the Obama administration are taking global warming seriously. However, White House aides caution the finding does not mean the EPA will immediately begin regulating industries that pollute the air.

The Obama administration is pushing for comprehensive energy legislation from Congress that puts a price on carbon emissions, a so-called "cap and trade" policy that uses market forces as an incentive for businesses to reduce carbon emissions.
In her announcement, Jackson will make the case that climate change affects weather patterns like droughts, hurricanes, heat waves and the air that people breathe, the officials said. She will say that carbon dioxide emissions go beyond damaging the environment, but also endangers public health.
The agency is making this announcement because it is required to issue an "endangerment finding" - evidence that carbon emissions are dangerous to the public health - before it can regulate carbon dioxide and five other greenhouse gases under the federal Clean Air Act.
The EPA said in April 2009 that it would likely make such a ruling regarding carbon emissions and public health. The agency completed a public-comment process before making the announcement.