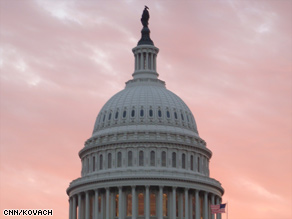 The CNN Washington Bureau's morning speed read of the top stories making news from around the country and the world.
WASHINGTON/POLITICAL
For the latest political news: www.CNNPolitics.com
CNN: Obama aides fine-tune meaning of Afghan withdrawal date
Top aides to President Obama on Sunday signaled that some U.S. troops could start coming home from Afghanistan as soon as July 2011, but most would likely remain there for several years.
Washington Post: Millions' worth of gear left in Iraq
Even as the U.S. military scrambles to support a troop surge in Afghanistan, it is donating passenger vehicles, generators and other equipment worth tens of millions of dollars to the Iraqi government. …Officials involved say the approach has triggered arguments in the Pentagon over whether the effort to leave Iraqis adequately equipped is hurting the buildup in Afghanistan.
Los Angeles Times: $10 million is smuggled out of Afghanistan daily, official says
An estimated $10 million a day is smuggled out of Afghanistan, most of it through Kabul's international airport, rather than through secret routes over the mountains or across the desert, the country's finance minister said Sunday.
Wall Street Journal: New Government-Run Health Proposal Eyed
Democrats wrestled with a new proposal on a government health-insurance plan that would give private entities a central role in running the program, in a bid for compromise on one of the health bill's most divisive issues.
San Francisco Chronicle: Eshoo bill huge boon for Silicon Valley biotech
Buried in the giant health care bills in Congress is a multibillion-dollar bonanza for Silicon Valley's biotechnology and venture capital industries, sponsored by Rep. Anna Eshoo, a Palo Alto Democrat. The provision would grant "biologic" drugs, a new class of drugs based on gene splicing and grown in living cells, 12 years of protection from competition by the generic drug industry, in addition to their patents.
Wall Street Journal: Business Fumes Over EPA Rule
Officials gather in Copenhagen this week for an international climate summit, but business leaders are focusing even more on Washington, where the Obama administration is expected as early as Monday to formally declare carbon dioxide a dangerous pollutant.
USA Today: Mass. primary poses puzzle on future of Kennedy's Senate seat
Four Democrats and two Republicans are vying for their parties' nominations in a contest that will pick a successor to Sen. Edward Kennedy, who died of cancer in August. The cast of characters includes a prosecutor hoping to become the state's first female senator, a co-owner of the Boston Celtics who has poured more than $5 million of his money into the race, and a Republican who once won Cosmopolitan magazine's "America's Sexiest Man" contest.