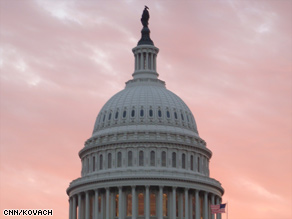 The CNN Washington Bureau's morning speed read of the top stories making news from around the country and the world.
WASHINGTON/POLITICAL
For the latest political news: www.CNNPolitics.com
CNN: Obama aides fine-tune meaning of Afghan withdrawal date
Top aides to President Obama on Sunday signaled that some U.S. troops could start coming home from Afghanistan as soon as July 2011, but most would likely remain there for several years.
Washington Post: Millions' worth of gear left in Iraq
Even as the U.S. military scrambles to support a troop surge in Afghanistan, it is donating passenger vehicles, generators and other equipment worth tens of millions of dollars to the Iraqi government. …Officials involved say the approach has triggered arguments in the Pentagon over whether the effort to leave Iraqis adequately equipped is hurting the buildup in Afghanistan.
Los Angeles Times: $10 million is smuggled out of Afghanistan daily, official says
An estimated $10 million a day is smuggled out of Afghanistan, most of it through Kabul's international airport, rather than through secret routes over the mountains or across the desert, the country's finance minister said Sunday.
Wall Street Journal: New Government-Run Health Proposal Eyed
Democrats wrestled with a new proposal on a government health-insurance plan that would give private entities a central role in running the program, in a bid for compromise on one of the health bill's most divisive issues.
San Francisco Chronicle: Eshoo bill huge boon for Silicon Valley biotech
Buried in the giant health care bills in Congress is a multibillion-dollar bonanza for Silicon Valley's biotechnology and venture capital industries, sponsored by Rep. Anna Eshoo, a Palo Alto Democrat. The provision would grant "biologic" drugs, a new class of drugs based on gene splicing and grown in living cells, 12 years of protection from competition by the generic drug industry, in addition to their patents.
Wall Street Journal: Business Fumes Over EPA Rule
Officials gather in Copenhagen this week for an international climate summit, but business leaders are focusing even more on Washington, where the Obama administration is expected as early as Monday to formally declare carbon dioxide a dangerous pollutant.
USA Today: Mass. primary poses puzzle on future of Kennedy's Senate seat
Four Democrats and two Republicans are vying for their parties' nominations in a contest that will pick a successor to Sen. Edward Kennedy, who died of cancer in August. The cast of characters includes a prosecutor hoping to become the state's first female senator, a co-owner of the Boston Celtics who has poured more than $5 million of his money into the race, and a Republican who once won Cosmopolitan magazine's "America's Sexiest Man" contest.
Kansas City Star: Full speed ahead for GOP fight in Kansas
Jerry Moran had a decision to make one Saturday in September: Get behind the wheel for a 270-mile trip to Johnson County for a 15-minute speech — or not. The U.S. Senate candidate stepped on the gas.
Concord Monitor: GOP congressional field grows
Republican Frank Guinta has been campaigning for the 1st Congressional District seat since May. He had raised $236,000 by September. He is the two-term mayor of New Hampshire's largest city. But that hasn't stopped other candidates from challenging him for the Republican nomination.
Hartford Courant: Foley, Dropping Out Of Senate Race, Says He's Running For Governor
Former U.S. Ambassador to Ireland Tom Foley announced Thursday that he was running for governor and had dropped out of the U.S. Senate race for Democrat Christopher Dodd's seat.
Washington Post: Secret Service counts 91 breaches
Long before a pair of gate-crashers penetrated a White House state dinner, the Secret Service had detailed for its internal use a lengthy list of security breaches dating to the Carter administration - including significant failures in the agency's protection of the president.
Des Moines Register: Governments in Iowa now $11.6 billion in debt
Iowa's total government debt has grown by almost $3 billion in the past five years and is expected to take another jump in the current fiscal year, partly because of Gov. Chet Culver's $830 million I-JOBS program.
Salt Lake Tribune: Hatch gains a new 'seat' of power
It took Orrin Hatch decades, but Utah's senior senator finally has landed a cherished spot on the Senate floor: an aisle desk right behind the Republican leader. …This Senate shuffle - a cross between the slowest form of musical chairs and the old real estate mantra "location, location, location" - might seem meaningless to outsiders. But inside power-propelled Washington, the right desk in the right spot is key.
NATIONAL
For the latest national news: www.CNN.com
CNN: Beef sold in two states recalled over salmonella concerns
More than 20,000 pounds of beef have been recalled by a California company amid worries the meat is linked to two cases of salmonella, a federal food safety agency said.
Los Angeles Times: Temp firms a magnet for unfit nurses
Firms that supply temporary nurses to the nation's hospitals are taking perilous shortcuts in their screening and supervision, sometimes putting seriously ill patients in the hands of incompetent or impaired caregivers.
CNN: Los Angeles Episcopalians elect lesbian bishop
Los Angeles Episcopalians elected an openly lesbian bishop late Saturday, the denomination's news service reported.
Providence Journal: Salvation Army kettle jobs ring a bell with R.I.'s unemployed
With more than 73,000 unemployed workers in Rhode Island, job competition is tougher than ever. Even if you want to be a seasonal bell ringer for the Salvation Army. Most of the bell ringers standing at the familiar red kettles in the state are paid workers earning minimum wage, not volunteers. Because of the dire economy, Salvation Army officials said, the number of applicants has more than doubled.
INTERNATIONAL
For the latest international news: http://edition.cnn.com
BBC News: New Iraqi election law approved
Iraq's parliament has unanimously approved a new electoral law, paving the way for elections early next year. Parliamentarians were called to vote in a special late-night session to try to end a political crisis, and they voted minutes before the midnight deadline.
CNN: Key global climate talks begin in Copenhagen
The drumbeat rousing world leaders to action on climate change is fading out as delegates get down to the business of negotiating a global deal at climate talks in Copenhagen.
Telegraph UK: Copenhagen climate summit: 1,200 limos, 140 private planes and caviar wedges
Copenhagen is preparing for the climate change summit that will produce as much carbon dioxide as a town the size of Middlesbrough. On a normal day, Majken Friss Jorgensen, managing director of Copenhagen's biggest limousine company, says her firm has twelve vehicles on the road. During the "summit to save the world", which opens here tomorrow, she will have 200.
CNN: Morales re-elected in Bolivia
Bolivian President Evo Morales handily won re-election Sunday, unofficial preliminary results showed. The resounding victory was not unexpected, as Morales, the country's first president of indigenous descent, was leading in pre-election polls and was widely expected to win.
BUSINESS
For the latest business news: www.CNNMoney.com
Wall Street Journal: Estimated TARP Cost Is Cut by $200 Billion
The Obama administration, buoyed by a resurgent Wall Street, plans to cut the projected long-term cost of the Troubled Asset Relief Program by more than $200 billion, in a move that could smooth the way for the introduction of a new jobs program.
Wall Street Journal: Fresh Pay Skirmish Erupts at AIG
Five high-ranking executives at American International Group Inc. said last week they were prepared to quit if their compensation is cut significantly by the insurer's government overseers, according to people familiar with the matter.
Houston Chronicle: Beneath the Gulf, drillers uncover bounty
Despite a tough economy that forced cuts elsewhere, oil and gas producers in 2009 continued their push into the deep-water Gulf of Mexico, and many of their efforts were rewarded.
The Times: Banks face fresh Dubai debt fears
Fears are growing among western banks that Dubai Holding, the personal investment vehicle of the emirate's ruler, Sheikh Mohammed bin Rashid al-Maktoum, will be the next state-owned Dubai company to default.
Bloomberg: Recession Makes '03 Blackout Unlikely as Grid Investment Grows
Six years after the biggest blackout in U.S. history, the reliability of the electricity supply is being shored up by investors betting that transmission projects are a smart wager in a weak economy.
In Case You Missed It
Climate Summit Goals
http://www.cnn.com/video/#/video/tech/2009/12/06/black.lok.cop15.cnn
The carbon capture experiment
http://www.cnn.com/video/#/video/us/2009/12/06/quijano.carbon.capture.cnn
A Swiss miss on minarets
http://www.cnn.com/video/#/video/world/2009/12/06/gps.swiss.minarets.cnn
Subscribe to the CNN=Politics DAILY podcast at http://www.cnn.com/politicalpodcast
And now stay posted on the latest from the campaign trail by downloading the CNN=Politics SCREENSAVER at http://www.CNN.com/situationroom