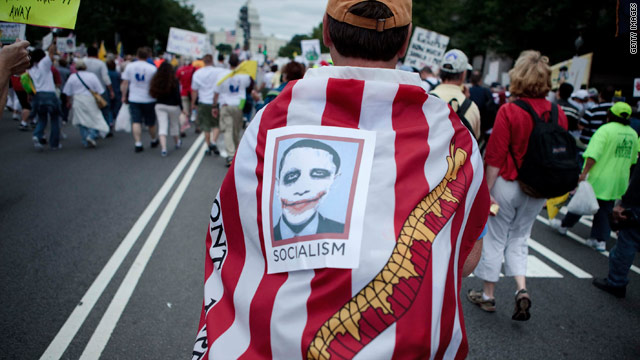 Protesters march through Washington at a Tea Party Express rally on September 12.
Washington (CNN) - It emerged in anger and it threatens to split in anger.
One major group in the Tea Party movement - named after the famous Boston Tea Party - is set to host its first convention in February, with former Alaska governor and 2008 Republican vice-presidential candidate Sarah Palin as its keynote speaker.
But there are fractures in the movement that threaten its future. And if history's any guide, such movements tend to flame out.
The Tea Party movement erupted on April 15 - tax day - over criticism of President Obama's economic policies and what organizers called big government out of control. The movement, made up of local, state and national groups, continues to protest what it considers fiscally unsound policies.
And the movement is well funded. Action groups like FreedomWorks - chaired by former House Majority Leader Dick Armey - helped organize and fund its April 15 rally in Washington.
Other groups, including Americans for Prosperity, Tea Party Nation and Tea Party Patriots, are also vying for the helm of the movement, and it's creating what some are calling "competitive chaos."