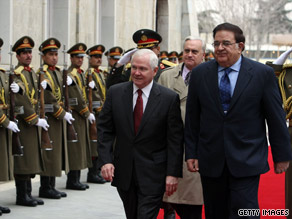 Defense Secretary Robert Gates is in Afghanistan.
Kabul, Afghanistan (CNN) - U.S. Defense Secretary Robert Gates told Afghanistan's President Hamid Karzai on Tuesday that the United States "will never turn our back" on Afghanistan. Gates, who is on an unannounced visit in the war zone, held a joint news conference with Karzai.
"President Obama is sending 30,000 more U.S. troops, the first of which are scheduled to arrive within days," Gates said. "Afghanistan's international partners have pledged at least 7,000 additional troops; when all is said and done, some 43 nations will make up a force."
Gates also was scheduled to meet with Afghan Defense Minister Abdul Rahim Wardak, as well as American military officials.