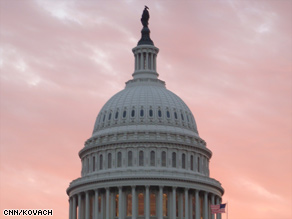 The CNN Washington Bureau's morning speed read of the top stories making news from around the country and the world.
WASHINGTON/POLITICAL
For the latest political news: www.CNNPolitics.com
CNN: U.S. defense secretary arrives in Afghanistan
U.S. Defense Secretary Robert Gates arrived in Afghanistan on Tuesday, a week after President Barack Obama announced he was sending 30,000 additional troops to the central Asian nation. Gates was expected to meet with Afghan President Hamid Karzai and other U.S. military officials on the unannounced visit.
New York Times: Officials Try to Unite on Afghan Plan
When General McChrystal and Ambassador Eikenberry sit down next to each other on Tuesday to testify before the House and Senate about President Obama's new Afghan policy, they will have to work hard to project the image of lockstep unity so valued by this White House.
Washington Post: Taliban shadow officials offer concrete alternative
LAGHMAN, AFGHANISTAN - Like nearly all provinces in Afghanistan, this one has two governors. The first was appointed by President Hamid Karzai and is backed by thousands of U.S. troops. …The second governor was chosen by Taliban leader Mohammad Omar and, hunted by American soldiers, sneaks in only at night.
CNN: Senate Democrats eye alternatives to public option
Liberal and moderate Senate Democrats said Monday they may be nearing agreement on a package of alternatives to a government-run public health insurance option in the chamber's sweeping health care bill.
Denver Post: Colo. Sens. Udall, Bennet among freshmen pushing for health-bill changes
Eleven first-term Democrats will announce Tuesday a "freshmen package" of more than a dozen amendments that take on everything from bureaucratic red tape to the fee-for-service model on which most health care in the United States is based.
Salt Lake Tribune: Hatch files abortion amendment to Senate health reform bill
The issue of abortion coverage within health insurance exchanges has turned into one of the largest roadblocks for reform, inflaming an already intense partisan debate.
Wall Street Journal: Senate Turns to Medicare, Medicaid
Senate Democrats are considering a significant expansion of Medicare and Medicaid, the health programs for the elderly and the poor, as part of a package of potential changes to health-overhaul legislation that would also sharply scale back a proposed new government-run insurance plan.
Minnesota Star-Tribune: Is 'opting out' a real option?
The idea that Minnesota could 'opt out' of the controversial government insurance program at the center of a proposed national health overhaul has received a push from no less a figure than Gov. Tim Pawlenty. …Should it pass, the health care overhaul would not be fully phased in until 2014. That would give state politicians the 2010 gubernatorial race and beyond to shape Minnesota's response to the landmark legislation that will emerge from Congress in the coming weeks or months.
Dallas Morning News: EPA plan to regulate greenhouse gases gets criticism, cheers in Texas
The Environmental Protection Agency said Monday that greenhouse gases spewed by power plants, oil refineries and vehicles constitute a public health threat, a verdict that positions the government to set new limits on global-warming emissions. Such rules would have a significant effect on Texas, which emits more heat-trapping gases than any other state.
CNN: Top U.S. envoy heads to North Korea
The top U.S. envoy for North Korea was headed for Pyongyang on Tuesday for the highest-level talks between the two countries since President Barack Obama took office.
Boston Globe: Round 1 decision time
For three months, the candidates for US Senate have tried to generate voter excitement for a special primary election that has often seemed to be off the public's radar. Today, with low turnout expected across the state, their campaign organizations will pull out all the stops to get those voters who were paying attention into the polling booths.
Chicago Tribune: Feds plan to revise Blagojevich charges
Federal prosecutors plan to bring a revised indictment against former Gov. Rod Blagojevich next month to avoid possible delays in their case due to a looming U.S. Supreme Court decision on one of their favorite weapons in public corruption cases, the U.S. attorney's office said Monday.
New Jersey Star-Ledger: Senate panel clears same-sex marriage
Legislation to allow same-sex marriage in New Jersey cleared the Senate Judiciary Committee last night after more than seven hours of emotional debate and testimony, setting the stage for a showdown in the full Senate.
Albany Times-Union: Jury: Bruno guilty on 2 counts
Former Senate Majority Leader Joseph L. Bruno was convicted of federal corruption today for exploiting his political office to enrich himself through side "consultant" work that conflicted with his role as one of the most powerful men in New York state government.
New York Daily News: Man arrested for throwing tomatoes at Sarah Palin during 'Going Rogue' book signing
Police said Jeremy Paul Olson, 33, tried to paste Palin with a couple of tomatoes he hurled during a book signing at the Mall of America in Bloomington, Minn. What Olson had against Palin wasn't immediately clear. What ever it was, he was clearly in the minority. More than 1,000 die-hard supporters treated the event like another Black Friday, lining up outside in freezing weather before the mall doors opened at 5 a.m.
NATIONAL
For the latest national news: www.CNN.com
CNN: U.S. citizen charged in Mumbai attacks
A U.S. citizen has been charged with alleged involvement in planning last year's terrorist attacks in Mumbai, India, the Justice Department said Monday.
Anchorage Daily News: Interior OKs offshore drilling in Arctic
The Interior Department on Monday gave the go-ahead for Shell Oil to begin drilling three exploratory wells in the Chukchi Sea, a move that could open the door for offshore oil and gas production from a new region of the Arctic.
Hartford Courant: Hard Drive Lost By Health Net Not Encoded; Held Personal Data
The external hard drive lost by Health Net, which contained customers' personal information, was not encoded and could be read by commercially available software, the state attorney general said today.
New York Times: Millions in U.S. Drink Dirty Water, Records Show
More than 20 percent of the nation's water treatment systems have violated key provisions of the Safe Drinking Water Act over the last five years, according to a New York Times analysis of federal data.
Los Angeles Times: 3rd L.A.-area hospital in radiation overdose probe
The U.S. Food and Drug Administration has widened its investigation into radiation overdoses that patients have received from a type of brain scan, suggesting that the problem may be a nationwide issue.
INTERNATIONAL
For the latest international news: http://edition.cnn.com
CNN: U.N. official optimistic on climate accord
On the opening day of the global climate summit in Denmark, a key U.N. official said she is optimistic that there will be a binding international treaty next year to cut greenhouse gas emissions.
BBC News: Copenhagen summit welcomes US emissions curbs
UN and EU officials have welcomed the US declaration that greenhouse gases are threatening to human health. An EU spokesman said the announcement showed "a degree of resolve" on the part of President Barack Obama to address climate change.
Der Spiegel: Fraudulent Emissions-Trading Schemes Rob German Tax Authorities
The Kyoto Protocol introduced a scheme for trading emissions certificates as a way to help reduce CO2 emissions. German tax authorities are now investigating almost 40 companies that traded certificates for allegedly taking advantage of loopholes in sales tax laws to bilk the taxman out of hundreds of millions of euros.
Jerusalem Post: Gov't has de-facto ban on foreign leaders entering Gaza Strip
Prime Minister Binyamin Netanyahu's government has an undeclared, but de facto policy, of not letting senior political figures, such as foreign ministers, enter the Gaza Strip from Israel, The Jerusalem Post has learned.
BUSINESS
For the latest business news: www.CNNMoney.com
Bloomberg: Most Asian Stocks Drop on Bernanke, Japan Stimulus; Pound Falls
Most Asian stocks fell after Federal Reserve Chairman Ben S. Bernanke said the U.S. economy faces "formidable headwinds," and Japan unveiled an $81 billion stimulus program. The U.K. pound weakened.
CNNMoney: Obama: Use TARP for job creation
President Obama is expected to announce Tuesday that he wants Congress to redirect a certain portion of leftover Wall Street bailout funds toward job creation measures, White House officials told CNN.
Business Week: Google Gets Real-Time, Personalized Search
Even small changes to the world's most-used search engine inevitably changes how hundreds of millions of people use the Web. In the past few days, Google introduced two big features which could have major implications for the future of online search and for the company's evolving relationship to a handful of emerging rivals.
In Case You Missed It
Gear left in Iraq
http://www.cnn.com/video/#/video/us/2009/12/07/todd.gear.left.in.iraq.cnn
On the defensive
http://www.cnn.com/video/#/video/politics/2009/12/07/yellin.baucus.on.the.defensive.cnn
Subscribe to the CNN=Politics DAILY podcast at http://www.cnn.com/politicalpodcast
And now stay posted on the latest from the campaign trail by downloading the CNN=Politics SCREENSAVER at http://www.CNN.com/situationroom