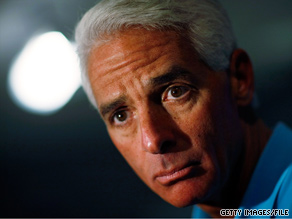 Florida Gov. Charlie Crist is in a tough Senate primary battle.
Washington (CNN) - As primary battles go, this one's pretty ugly.
The intra-party Republican fight in Florida between Gov. Charlie Crist and former state House Speaker Marco Rubio is full of fireworks.
Here's a taste:
Rubio campaign spokesman Alex Burgos declares, "Charlie Crist will need to spend every last cent trying to convince voters that his support for wasteful stimulus spending, cap-and-trade schemes, tax increases and liberal judges are acceptable Republican practices."
Crist is the popular first-term governor who's decided to run for the Senate next year rather than another term in Tallahassee. Mainstream Republicans have backed him.
Rubio is the darling of the right. Last month the conservative Club for Growth, an anti-tax organization, backed Rubio and went up with an ad slamming Crist. Days earlier, the Family Research Council, a powerful social conservative group, announced that its political action committee endorsed Rubio.
If the bitter battle looks familiar, it is.