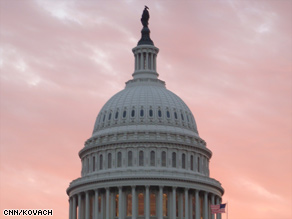 The CNN Washington Bureau's morning speed read of the top stories making news from around the country and the world.
WASHINGTON/POLITICAL
For the latest political news: www.CNNPolitics.com
CNN: Senate approves government funding bill
The U.S. Senate on Sunday approved $447 billion in spending for several Cabinet departments and other agencies for the 2010 budget year - money needed to fund the federal government after this week.
NPR: Pentagon, CIA Eye New Threat: Climate Change
Global warming is now officially considered a threat to U.S. national security. For the first time, Pentagon planners in 2010 will include climate change among the security threats identified in the Quadrennial Defense Review, the Congress-mandated report that updates Pentagon priorities every four years.
Bloomberg News: Summers Predicts U.S. Hiring Will Start to Grow in Spring 2010
White House chief economic adviser Lawrence Summers said U.S. employers will start to increase payrolls this spring, ending a decline that's led to the loss of 7.2 million jobs since the recession began two years ago.
Wall Street Journal: Fed Holds the Key to Dollar Strength
The dollar is likely to build on recent gains this week amid optimism the U.S. economy may pick up enough steam to prompt the Federal Reserve to raise interest rates sooner than many expected.
Washington Post: Obama presses bank chiefs to lend more
President Obama, who lashed out Sunday at "fat cat bankers" who "still don't get it," plans to gather the heads of major banks at the White House on Monday to urge them to make more loans and to accept the necessity of greater regulation.
Los Angeles Times: Drone attacks may be expanded in Pakistan
Senior U.S. officials are pushing to expand CIA drone strikes beyond Pakistan's tribal region and into a major city in an attempt to pressure the Pakistani government to pursue Taliban leaders based in Quetta.
Washington Post: Afghan promises to insurgents often empty
His path marked by moonlight, with a Kalashnikov strapped to his back, Feda Mohammed hiked the well-worn trail through the mountains of Pakistan and into Afghanistan. He had traveled the route dozens of times before to attack U.S. soldiers. But this time, Mohammed was on a secret mission to surrender.