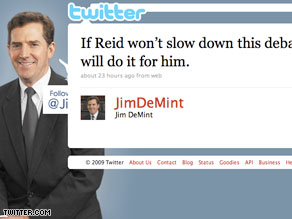 Washington (CNN) – During a press conference on Wednesday, Democrat Sen. Dick Durbin pointed to Republican Sen. Jim DeMint's Twitter account as the smoking gun – or as he called it, the "smoking tweet" – showing the Republicans' strategy to slow down the health care bill.
"If there's any idea, any question in mind about motive and what's behind this, I have in my hand a smoking tweet," Durbin said.
Pointing to a piece of paper, Durbin proceeded to read two of DeMint's tweets: "'If Reid won't slow down this debate, we'll do it for him,' followed by, 'Coburn forced Dems to read 767 pg Sanders amendment, we'll do everything we can to stop this government takeover of health care.'"
The press conference was held by Durbin and Sen. Robert Menendez to discuss "GOP obstruction" to the health care bill.
Wesly Denton, DeMint's Communications Director, told CNN he was "flattered that [Durbin] is paying so much attention to DeMint's Twitter account," but added, "DeMint's been clear for months he wants to stop this bill."