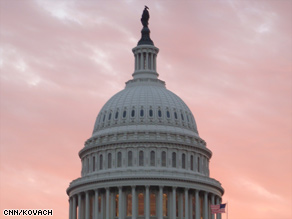 The CNN Washington Bureau's morning speed read of the top stories making news from around the country and the world.
Compiled by Alison Harding
WASHINGTON/POLITICAL
For the latest political news: www.CNNPolitics.com
CNN: GOP senator freezes health care debate
The congressional health care debate stalled briefly Wednesday as Senate Republicans insisted that a 767-page mega-amendment be read out loud in its entirety.
The Hill: Sanders says 'as of this point' he won't vote for healthcare bill
Sen. Bernie Sanders (I-Vt.) said late Wednesday that he cannot support the Democrats' healthcare reform legislation in its current form. Earlier on Wednesday, Sanders described himself as "undecided" on the bill.
Christian Science Monitor: Joe Lieberman 'out of tune' with Connecticut, but few complain
There is an irony in Sen. Joseph Lieberman's stalwart opposition to any form of a healthcare public option: The state he represents, Connecticut, approved a statewide public health insurance system with a public option this year.
CNN: Nelson reviewing new abortion language
Sen. Ben Nelson tells CNN he has received a compromise proposal on abortion restrictions that look "better than what's in the bill," but that he has to review it, and send it back to anti-abortion interest groups in his home state of Nebraska. …Nelson – whose vote is likely crucial to pass the Democratic health care reform bill – has said he believes the abortion restrictions in the Senate bill are too weak, and has threatened to vote against the plan if it isn't changed.
The Hill: GOP lawmaker seeks documents on Obama healthcare deals
A House Republican congressman is pushing the Obama administration to reveal the specifics of deals it struck with various groups on healthcare reform.
CNN: House rushes to wrap up year, postpone some battles until new year
With a holiday break looming, the House of Representatives Wednesday rushed to wrap up year-end business, and postponed several major battles until next year.
Washington Post: Pelosi says rallying votes for troop surge in Afghanistan will be Obama's job
President Obama will have to argue his own case to House Democrats as he seeks support for a planned surge of 30,000 troops into Afghanistan, House Speaker Nancy Pelosi (D-Calif.) said Wednesday, adding that she is finished asking her colleagues to back wars that they do not support.
New York Times: U.N. Officials Say American Aide Plotted to Replace Karzai
As widespread fraud in the Afghanistan presidential election was becoming clear three months ago, the No. 2 United Nations official in the country, the American Peter W. Galbraith, proposed enlisting the White House in a plan to replace the Afghan president, Hamid Karzai, according to two senior United Nations officials.
Wall Street Journal: Insurgents Hack U.S. Drones
Militants in Iraq have used $26 off-the-shelf software to intercept live video feeds from U.S. Predator drones, potentially providing them with information they need to evade or monitor U.S. military operations.
Washington Post: Documents show DHS improperly spied on National of Islam in 2007
The Department of Homeland Security improperly gathered intelligence on the Nation of Islam for eight months in 2007 when the leader of the black Muslim group, Louis Farrakhan, was in poor health and appeared to be yielding power, according to government documents released Wednesday.
CNN: South Carolina panel votes against impeaching Sanford
South Carolina lawmakers voted down a resolution Wednesday to impeach Mark Sanford, voting instead to formally rebuke the embattled governor for taking a secret trip to Argentina to see his mistress, and for the misuse of state airplanes.
San Francisco Chronicle: GOP rivals' wealth heats up governor's race
The 2010 California governor's race, already an entertaining reality show, is exhibiting signs of morphing into an expensive, combative new series – "Battle of the Super Rich."
Miami Herald: McCollum, Sink trade shots over banking ties
As Florida leads the nation in foreclosures, the top contenders for governor are pointing fingers at each other over old banking links. Picking up a line of attack begun months ago by the Florida Republican Party, gubernatorial hopeful Bill McCollum is accusing his Democratic rival, Alex Sink, of using "deceptive loan practices" while she was a top banker.
Boston Globe: Brown hopes issues give him an opening
On paper, the special US Senate election next month should be another walkover for the Democrats. Yet the race for the seat of the late Edward M. Kennedy will play out not on paper, but in a noxious political environment, providing a rare glint of hope for the state's undermanned Republicans.
NATIONAL
For the latest national news: www.CNN.com
Boston Globe: Rail stimulus funds to bypass Northeast
The railroad tracks from Boston to Washington – the busiest rail artery in the nation, and one that also carries America's only high-speed train, the Acela – have been virtually shut out of $8 billion worth of federal stimulus money set aside for high-speed rail projects because of a strict environmental review required by the Obama administration.
Washington Post: Black leaders urge census to change how it counts inmates
A coalition of African American leaders concerned about minorities being undercounted in the 2010 Census called Wednesday for inmates at federal and state prisons to be tallied in their home communities instead of the towns where they are incarcerated.
USA Today: Police: Criminals are packing more heat
Criminals increasingly are choosing high-powered firearms such as assault weapons, a new survey of 166 U.S. police agencies shows.
New York Times: That Tap Water Is Legal but May Be Unhealthy
The 35-year-old federal law regulating tap water is so out of date that the water Americans drink can pose what scientists say are serious health risks — and still be legal.
INTERNATIONAL
For the latest international news: http://edition.cnn.com
Daily Telegraph: Copenhagen climate conference: ministers plan new summit
As British officials admitted that the talks remain " very difficult", Ed Miliband, the climate change secretary, signalled Britain is prepared to back a move to hold another international climate summit in Mexico City next summer, several months ahead of schedule.
Washington Post: China says it can't see reaching agreement on climate pact
China has told participants in the U.N.-sponsored climate talks that it cannot envision reaching an immediate, operational accord out of the negotiations here, according to an official involved in the talks.
Los Angeles Times: Drug-related killings surge in Tijuana
More than 45 people have been killed in Tijuana since Saturday in grisly drug violence that appears to signal the end of a nearly yearlong truce between rival crime bosses, according to Mexican authorities.
CNN: U.S. envoy: N. Korea uranium enrichment key issue for talks
The U.S. point person on North Korea said Wednesday that nation's uranium enrichment program must be dealt with once dormant six-party talks on its nuclear program resume.
Guardian: Gordon Brown reassures Israel over Tzipi Livni arrest warrant
Gordon Brown today told Tzipi Livni, Israel's former foreign minister, that he was "completely opposed" to the warrant issued by a British court for her arrest for war crimes and pledged to work to change the law that allowed it.
BBC News: Further British Airways strike talks planned
Talks to try to avert strike action by British Airways cabin crew are due to resume later after ending without agreement on Wednesday.
BUSINESS
For the latest business news: www.CNNMoney.com
Bloomberg: Fed Says U.S. Economy Still Needs Low Rates After Markets Heal
Federal Reserve officials declared financial markets healthy enough to remove most emergency aid without going as far on their support for the U.S. economy.
Wall Street Journal: EU Ends 16-Year Banana Trade Battle
The European Union ended one of the world's longest-running trade battles Tuesday as it agreed to cut import tariffs on bananas from Latin America grown by U.S. corporations like Dole Food Co., Fresh Del Monte Produce Inc. and Chiquita Brands International Inc.
CNNMoney: Bank of America names Brian Moynihan CEO
Bank of America appointed senior executive Brian Moynihan as its new chief executive officer, the company said late Wednesday, putting an end to months of speculation about who would lead the nation's largest bank.
CNNMoney: Stimulus Phase 2: Infrastructure and jobs
The largest stimulus program in the nation's history is starting to move into a new phase: Out with the rescue, in with new spending to create jobs.
Wall Street Journal: Treasury Halts Plan to Sell Off Citi Stock
The U.S. government abruptly shelved plans to start trimming its 34% stake in Citigroup Inc., after investors demanded a price so low that the Treasury Department would have lost money on the deal. The embarrassing reversal came two days after the Treasury said it planned to sell as much as $5 billion of stock in the New York company, as part of Citigroup's plan to pay back $20 billion in taxpayer aid the troubled bank received last year.
In Case You Missed It
U.S. special envoy to North Korea Stephen Bosworth discusses his trip to the Korean penninsula and the trip's message.
http://www.cnn.com/video/#/video/politics/2009/12/16/sot.state.department.cnn
CNN's Lisa Desjardins spoke with the Bureau of the Public Debt to find out how high the national debt could rise.
http://www.cnn.com/video/#/video/us/2009/12/16/desjardins.national.debt.clock.cnn
Subscribe to the CNN=Politics DAILY podcast at http://www.cnn.com/politicalpodcast
And now stay posted on the latest from the campaign trail by downloading the CNN=Politics SCREENSAVER at http://www.CNN.com/situationroom