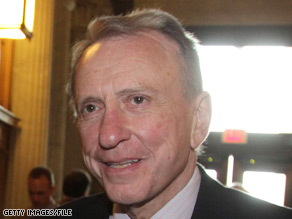 In early May, Specter held a 20-point lead over Toomey, but that advantage had disappeared by July.
(CNN) - Dead even.
That's what a new poll in Pennsylvania indicates about next year's senate race between Sen. Arlen Specter and Republican challenger Pat Toomey.
According to the Quinnipiac University survey of Keystone State voters released Friday morning, the Republican-turned-Democratic incumbent is deadlocked at 44 percent with the former congressman and former head of the Club for Growth, a limited-government and anti-tax organization. Toomey had a statistically insignificant one point lead over Specter in an October 1 Quinnipiac poll.
In early May, Specter held a 20-point lead over Toomey, but that advantage had disappeared by July. Toomey led Specter in polls of a hypothetical Republican Senate primary earlier this year, before the five-term senator became a Democrat. Specter said at the time that the difficulty in winning the Republican primary was a factor in his decision to switch parties.
"With less than 11 months to go, Sen. Arlen Specter and Pat Toomey are neck-and-neck. Specter has the state's Democratic registration advantage on his side, while Toomey can take heart in the numbers that show problems for Specter in measures in addition to the horse race," said Peter Brown, assistant director of the Quinnipiac University Polling Institute. "For example, voters say 50 – 38 percent Specter does not deserve reelection."

The survey indicates that Specter leads Democratic challenger Rep. Joe Sestak, a former Navy admiral, 53 percent to 30 percent. But that 23-point lead is down from a 32-point margin in July.
The White House has publicly backed Specter since he switched parties. Both President Barack Obama and Vice President Joe Biden have teamed up with the senator at political events this fall.
The poll indicates Pennsylvania voters approve 47 to 45 percent of the job Specter's doing as senator, and by 49 to 45 percent the job Obama's doing in the White House. Both margins are within the survey's sampling error.
"The President's job approval rating in Pennsylvania should be troubling to the White House. Pennsylvania has been trending Democratic in recent years and Obama had a double-digit 55 – 44 percent win in the 2008 election," said Brown. "But what's ailing him in Pennsylvania – unhappiness over health care and the economy – is no different than what is producing similar, and in some places worse numbers for the President elsewhere."
The Quinnipiac University poll was conducted December 8-14, with 1,381 Pennsylvania voters questioned by telephone. The survey's sampling error is 2.6 percentage points for the overall survey.