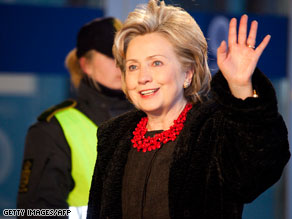 Did Clinton meet with Santa?
Washington (CNN) - Secretary of State Hillary Clinton kicked off her Christmas vacation Tuesday with some secret holiday diplomacy, the State Department said Friday.
On the way to her home in New York from Washington, Assistant Secretary PJ Crowley told reporters Clinton stopped at the North Pole "for an important bilateral meeting with a well-known international figure."
Crowley declined to say who the meeting was with, but a senior State Department official told CNN the tete-a-tete was with none other than the leader the North Pole himself, Santa Claus.
"During the meeting, in a formal de marche, sung to the tune of '12 Days of Christmas'...the secretary outlined her aspirations for the new year," Crowley said, citing "open and accountable governments, Middle East negotiations, more civilians in Afghanistan, empowerment of women, fewer nuclear weapons, respect for human rights, resolution of historic grievances, treaties through the United States Senate, six-party talks, dialogue with Iran, enough food for people of the world to eat, climate change legislation and, lastly, a championship for the Boston Red Sox."
Crowley confessed that Red Sox championship was his own Christmas wish, which he gave sitting on Santa's lap after the Clinton meeting.
She didn't depart Washington on a sleigh led by nine reindeer, but Clinton spread her own dose of Christmas spirit throughout the halls of Foggy Bottom before taking off, hosting no fewer than seven holiday parties at the State Department during the holiday season.
Of course there were the obligatory parties - such as one for her staff and one for the diplomatic press corps. But Clinton alo instituted a new set of holiday traditions.
In addition to the annual party for the diplomatic corps, which traditionally only includes ambassadors and heads of embassies and consulates in Washington, Clinton also hosted a series of parties for the regional bureaus, and asked department staff to invite diplomats who they deal with on a daily basis.
And this year Clinton also gave a party for family members of diplomats serving overseas in countries like Iraq and Afghanistan, where they aren't permitted to bring their families to live with them because of security concerns.
This year the parties were smaller and much more intimate than the parties of Christmas past. Clinton held court in the cozy Thomas Jefferson diplomatic reception room, rather than the large and ornate Benjamin Franklin room where parties are traditionally held. As is customary, the Secretary of State mingled among the crowds, smiling and posing for pictures.