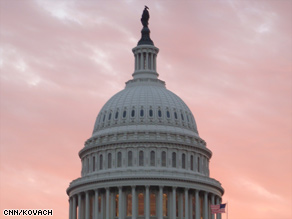 The CNN Washington Bureau's morning speed read of the top stories making news from around the country and the world.
WASHINGTON/POLITICAL
For the latest political news: www.CNNPolitics.com
CNN: Senate approves health care reform bill
The Senate passed a historic $871 billion health care reform bill Thursday morning, handing President Obama a Christmas Eve victory on his top domestic priority.
The Hill: Special interests offer mixed reactions to Senate healthcare vote
K Street's powerhouses have weighed in on the Senate's passage of a historic healthcare reform bill — and the verdict is decidedly mixed.
Boston Herald: Sen. Paul Kirk honors Ted Kennedy in casting health vote
Interim U.S. Sen. Paul Kirk yesterday held out hope a controversial public health insurance option could still be included in the sweeping health-care reform, just hours after the Senate passed its own version. With the late Sen. Edward M. Kennedy's wife, Vicki, and her two children looking on, Kirk gave fellow Democrats the 60th vote they needed yesterday to overcome a GOP filibuster and pass the measure.
New York Times: For Reid, a Hard Climb to the Pinnacle
It was the pinnacle moment of his political career. The Senate majority leader, Harry Reid of Nevada, on the verge of making history by shepherding through far-reaching health care legislation, was called upon by the clerk to cast his vote.
Hartford Courant: Gov. Rell Threatens To Sue Over "Ben Nelson Provision" For Medicaid For Nebraska; Part Of National Health Bill
In a move being made by other states, Republican Gov. M. Jodi Rell called for legal action Wednesday if Nebraska receives more Medicaid money than the other 49 states as part of the national health care bill.
Boston Globe: Coakley won't debate Brown one-on-one
The US Senate campaign of Democratic Attorney General Martha Coakley formally rejected for the first time yesterday an invitation to participate in a two-person televised debate with Republican state Senator Scott P. Brown.
USA Today: Obamas' affection for Hawaii means better times for state
When President Obama and his family arrive at Hickam Air Force Base for a Christmas vacation, it will be the fourth time he has visited the Islands in less than 18 months. The fact the president of the United States was born and largely raised in Hawaii is bearing fruit for the state, says Dan Boylan, political columnist and history professor at the University of Hawaii-West Oçahu.