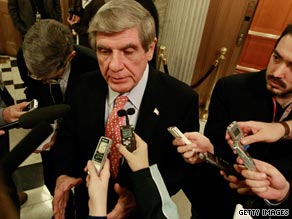 Sen. Ben Nelson (D-Nebraska) is one of four senators who hold great power in today's Washington, Julian Zelizer says.
Editor's note: Julian E. Zelizer is a professor of history and public affairs at Princeton University's Woodrow Wilson School. His new book is "Arsenal of Democracy: The Politics of National Security - From World War II to the War on Terrorism" published by Basic Books. Zelizer writes widely about current events.
Princeton, New Jersey (CNN) - Last month, Sen. Sherrod Brown of Ohio, a strong defender of the public option for health care, warned: "I don't want four Democratic senators dictating to the other 56 of us and to the country, when the public option has this much support, that it is not going to be in it."
But in the end, those senators won the battle over the public option, as well as several other provisions in the health care bill.
They have emerged as the powerhouses of the Senate.