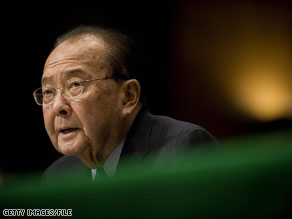 Sen. Daniel Inouye told CNN Wednesday that he believes former Vice President Dick Cheney has 'lost all of his credibility.'
HONOLULU, Hawaii (CNN) - Powerful Sen. Daniel Inouye (D-Hawaii) fired back at former Vice President Dick Cheney for slamming President Obama's response to the attempted terror attack in Detroit as too weak.
"That's nonsense," Inouye told CNN. "I think, I hate to say this, but I think the former Vice President lost all of his credibility by the way he's been conducting himself. I would expect a person with the potential of leading this country to be a bit more responsible."
Inouye, who as chair of the Senate Appropriations Committee hold sway over all defense and homeland security spending, said Obama handled the incident in a "proper fashion" by not commenting too quickly after the attempted attack on Northwest flight 253.
"Well he could have spoken five minutes after but that wouldn't be responsible, not knowing what the facts were," said Inouye. "Why should you instill fear and scare [people] when something is not justified? So I think he did the right thing."
Cheney released a written statement Wednesday morning charging that Obama was not doing enough to defend the country.
"As I've watched the events of the last few days it is clear once again that President Obama is trying to pretend we are not at war," Cheney said in the prepared statement. "He seems to think if he has a low key response to an attempt to blow up an airliner and kill hundreds of people, we won't be at war."
Inouye defended Obama's efforts to challenge al-Qaeda, especially in Yemen, though he said he could not go into details because he's received briefings of a "classified nature" in recent weeks.
"I can't tell you what is happening, but I can tell you we take the activities in Yemen very seriously, and we will act accordingly," said Inouye.