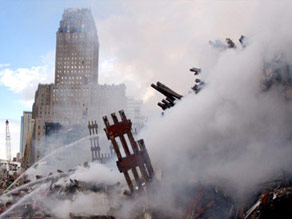 Since the attacks on the World Trade Center, intelligence agencies are 'still not talking,' according to a former CIA officer.
Washington (CNN) - The attempted Christmas Day bombing of a commercial airliner has renewed questions of whether the recommendations of the bipartisan 9/11 Commission have been taken seriously.
In its 2004 report on the terrorist attacks of September 11, 2001, the commission warned that the Transportation Security Administration and Congress "must give priority attention to improving the ability of screening checkpoints to detect explosives on passengers."
But at most airports, travelers simply pass through magnetometers, which are unlikely to detect bomb materials on their body.
Nigerian suspect Umar Farouk AbdulMutallab, 23, is accused of trying to blow up a Northwest Airlines plane going from Amsterdam, Netherlands, to Detroit, Michigan, with explosives concealed in his underwear. The explosives failed to detonate properly.
A Government Accounting Office report from October found that TSA has an array of "10 passenger-screening technologies." But the TSA, the report indicates, "has not deployed any of these technologies to airports nationwide."
One solution aviation experts point to is sophisticated screening technology such as full-body scans, which are more likely to detect explosives. But those devices are years away for most U.S. airports - though several are in operation at major airports across the country.