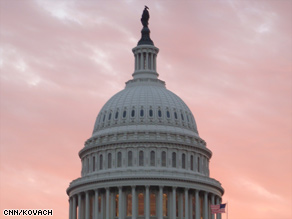 The CNN Washington Bureau's morning speed read of the top stories making news from around the country and the world.
WASHINGTON/POLITICAL
For the latest political news: www.CNNPolitics.com
CNN: Source: CIA failed to circulate report about bombing suspect
The father of terrorism suspect Umar Farouk AbdulMutallab talked about his son's extremist views with someone from the CIA and a report was prepared, but the report was not circulated outside the agency, a reliable source told CNN's Jeanne Meserve on Tuesday.
CNN: Obama team more closely linking al Qaeda to terror attempt
In a marked shift from previous positions, senior Obama administration officials now say they are starting to see an al Qaeda connection to the attempted terror attack on a U.S.-bound airliner.
Washington Post: As standoff with Iran continues, U.S. prepares targeted sanctions
The Obama administration is readying sanctions against discrete elements of the Iranian government, including those involved in the deadly crackdown on Iranian protesters, marking a shift to a more aggressive U.S. posture toward the Islamic republic, U.S. officials said.
New York Times: Obama Curbs Secrecy of Classified Documents
President Obama declared on Tuesday that "no information may remain classified indefinitely" as part of a sweeping overhaul of the executive branch's system for protecting classified national security information.
Wall Street Journal: Rich Cling to Life to Beat Tax Man
Nothing's certain except death and taxes - but a temporary lapse in the estate tax is causing a few wealthy Americans to try to bend those rules.
CBS News: Will GOP Call to Repeal Health Care Bill?
Prominent conservatives are calling for congressional Republicans to campaign in 2010 on a pledge to repeal the Democrats' sprawling health care legislation, but political and logistical realities could make repealing the bill a promise that is hard to keep.
Denver Post: Efforts already underway in Colorado to blunt federal health care reforms
Coloradans will likely be asked in November to blunt the impact of federal health-insurance reform with a state constitutional amendment that would attempt to undo some of what Congress is trying to pass.