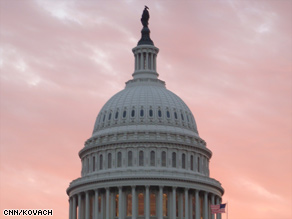 The CNN Washington Bureau's morning speed read of the top stories making news from around the country and the world.
Compiled by Alison Harding
WASHINGTON/POLITICAL
For the latest political news: www.CNNPolitics.com
CNN: White House briefings leave Hill with 'unanswered questions'
The Obama administration conducted two secure briefings on Wednesday for Congressional staffers about the attempted terror attack on Northwest Flight 253 that left key aides with still a lot of unanswered questions about what went wrong, according to two Congressional officials familiar with the sessions.
New York Times: Shadow of 9/11 Is Cast Again
The finger-pointing began in earnest on Wednesday over who in the alphabet soup of American security agencies knew what and when about the Nigerian man charged with trying to blow up an airliner.
CNN: White House forcefully responds to Cheney
The White House is responding forcefully to former Vice President Dick Cheney's comments Wednesday that are sharply critical of President Obama's response to the botched terror attack on Christmas Day.
New York Times: New York State Has First Deficit in General Fund
New York is about to achieve a dubious milestone: For the first time in history, the state's main bank account is poised to end the year in the red.
Washington Post: Rep. Murtha's earmarks lead to fewer jobs than promised
Murtha, 78, the chairman of the House Appropriations defense subcommittee, has been dubbed the "King of Pork" because he is the House member with the most requests for earmarks, funding added by lawmakers without going through normal reviews. Murtha has defended the practice as a way to create jobs in this hard-hit former coal-mining region.
Washington Post: White House visitors log reflects Obama agenda
Tens of thousands of people poured through the White House in September, including many who visited as part of organized outreach by the Obama administration to particularly important constituencies, according to visitor logs that were released Wednesday.
The Hill: State AGs request Reid, Pelosi drop Nebraska Medicaid funds from health bill
Attorneys General from 13 states penned the top two Democrats in Congress Wednesday requesting they remove extra Medicaid funds directed toward Nebraska.
Washington Post: Democrats may take power from superdelegates
Eighteen months removed from a protracted presidential primary fight, a group of Democrats gathered by President Obama has recommended that the party effectively eliminate the influence of so-called superdelegates by redefining their voting power.
Lincoln Journal Star: Shane Osborn in 2012 senate speculation
In September, Osborn announced he'll not be a candidate for re-election as state treasurer next year. But his name already has popped up on the short list of possible Republican challengers to Democratic Sen. Ben Nelson in 2012.
Palm Beach Post: Florida GOP leader faces revolt by top fundraisers
A dozen of Florida's top Republican fundraisers called for the resignation of their state party chairman in a letter late Tuesday, saying without his removal Republicans had a "diminished" chance for success in a crucial election next year.
NATIONAL
For the latest national news: www.CNN.com
CNN: Union: All in-air flights should have been told about attack
The federal Transportation Security Administration failed to notify most airborne flight crews of the failed Christmas Day terrorist attack on a U.S.-bound plane, an airline pilots union said Wednesday.
New York Times: Airlines Struggle Anew With Flier Frustrations
Executives at carriers that survived the 2001 terrorist attacks, soaring fuel prices and a rough economy are now scrambling to find ways to minimize the impact of the Christmas Day bombing attempt on consumers' travel plans in the new year.
Boston Globe: Yemen gas shipments to Boston stir worry
Shipments of liquefied natural gas from Yemen are scheduled to arrive for the first time in Boston Harbor in February, prompting a review of tanker security by the US Coast Guard that has intensified since a passenger with links to Al Qaeda in Yemen tried to blow up a US airliner over Detroit on Christmas Day.
Los Angeles Times: Records show a disconnect between embattled fire crew and commanders in Station fire
As walls of flame from the massive Station blaze closed in on their remote compound, the mission of the crews at Fire Camp 16 suddenly changed from protecting their corner of the Angeles National Forest to saving their own lives.
USA Today: Afghanistan far deadlier than Iraq for U.S. troops in 2009
More than twice as many U.S. troops died in Afghanistan in 2009 than in Iraq, U.S. casualty records show, and Afghanistan is likely to become an even deadlier place for American forces as reinforcements are rushed there to battle insurgents.
Chicago Tribune: Gov. Pat Quinn admits mistake on early-release of prisoners, blames corrections chief
Gov. Pat Quinn admitted Wednesday that state corrections officials made a "mistake" in putting hundreds of inmates back on the street after just a few weeks in prison and said he didn't know about his own administration's cost-cutting decision beforehand.
INTERNATIONAL
For the latest international news: http://edition.cnn.com
CNN: Yemeni diplomat: Yemen can carry out airstrikes against al Qaeda
U.S. special operations forces and intelligence agencies, and their Yemeni counterparts, are working to identify potential al Qaeda targets in Yemen, one of the senior officials said. This is part of a new classified agreement with the Yemeni government that the two countries will work together and that the U.S. will remain publicly silent on its role in providing intelligence and weapons to conduct strikes.
Bloomberg: Police Around World Ramp Up Security as Crowds Ring in New Year
New York is banning backpacks in Times Square, Bangkok is tightening security and Sydney is cracking down on public drinking as police around the world gear up for millions of New Year's Eve revelers.
CNN: Taliban claims responsibility for bombing
The Taliban claimed responsibility for a suicide bombing Wednesday that killed eight Americans believed to be CIA employees.
CNN: Parliament calls for arrest of Moussavi, two other opposition leaders
Iran's parliament has asked authorities to arrest "the main instigators and directors" of Sunday's violent anti-government protests, the state-run Islamic Republic News Agency reported Wednesday, the same day massive pro-government rallies were held in Tehran and other cities.
CNN: Freedom for UK hostage held in Iraq since 2007
Wednesday's release of a British computer expert held by Shiite Muslim insurgents in Iraq since 2007 came about as part of efforts to settle the six-year-old insurgency, an Iraqi government spokesman said.
The Guardian: Revealed: hand of Iran behind Britons' Baghdad kidnapping
The five British men kidnapped in Iraq were taken in an operation led and masterminded by Iran's Revolutionary Guard, according to evidence uncovered during an extensive investigation by the Guardian.
Daily Telegraph: France rejects carbon tax in blow to Sarkozy
An historic attempt to introduce a carbon tax strongly backed by President Nicolas Sarkozy was rejected by the French constitutional court on Wednesday. The flagship scheme was meant to place Mr Sarkozy at the head of the worldwide green revolution, making it a pioneer in the fight against climate change.
Irish Times: Hacker cracks code to encrypt mobile calls
A German computer scientist has cracked the codes used to encrypt calls made from more than 80 per cent of the world's mobile phones. Karsten Nohl and his team of 24 hackers began working on the security algorithm for the Global System for Mobiles (GSM) in August.
BUSINESS
For the latest business news: www.CNNMoney.com
CNNMoney: U.S. slaps levy on Chinese pipes
The U.S. International Trade Commission voted unanimously Wednesday to impose new tariffs on imports of Chinese steel piping.
Wall Street Journal: 2009: Banner Year for Stocks
The U.S. stock market is poised to end 2009 with a comeback of historic proportions, with the Dow Jones Industrial Average up 61% from its March nadir and 20% for the year. But the history of such rebounds suggests the biggest gains may already be over, making it hard to expect a blockbuster 2010.
Bloomberg: Treasuries Head for Worst Performance Among G-7 on Supply Woes
Treasury futures fell with U.S. government bonds poised to post the worst annual performance among Group of Seven nations as the U.S. borrowed unprecedented amounts to help spur a recovery from recession.
USA Today: U.S. exported its aggressive credit card fees worldwide
The British credit card market was once a relatively sleepy one made up of loyal borrowers and debt-averse older consumers. Much of that changed with the debut of a popular American export: a credit card with no annual fee and a low interest rate.
CNNMoney: Fox stands firm in Time Warner Cable fee dispute
Fox Network refused Wednesday to agree to an offer by Time Warner Cable to enter arbitration with the Federal Communications Commission to resolve an ongoing fee dispute.
CNNMoney: GMAC receives 3rd round of bailout funds
GMAC Financial Services will receive a third round of bailout funds from the U.S. Treasury Department and the government will have a controlling stake in the company, according to a government report Wednesday.
In Case You Missed It
Could prior intelligence reports have stopped the Christmas day airline terror plot? CNN's Jeanne Meserve reports
http://www.cnn.com/video/#/video/us/2009/12/30/meserve.cia.and.plane.terror.plot.cnn
CNN's Brian Todd looks at possible connections between the Christmas terror plot suspect and a radical cleric in Yemen.
http://www.cnn.com/video/#/video/world/2009/12/30/todd.yemeni.cleric.cnn
Subscribe to the CNN=Politics DAILY podcast at http://www.cnn.com/politicalpodcast
And now stay posted on the latest from the campaign trail by downloading the CNN=Politics SCREENSAVER at http://www.CNN.com/situationroom