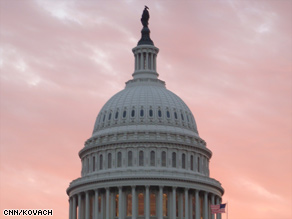 The CNN Washington Bureau's morning speed read of the top stories making news from around the country and the world.
Compiled by Alison Harding
WASHINGTON/POLITICAL
For the latest political news: www.CNNPolitics.com
CNN: TSA: Enhanced screening for people flying to U.S. from certain nations
The Transportation Security Administration announced Sunday that it will begin enhanced screening procedures Monday on any U.S.-bound air passenger traveling through "state sponsors of terrorism or other countries of interest" such as Pakistan, Yemen and Nigeria.
Washington Post: Jordan emerges as key CIA counterterrorism ally
Although its participation is rarely acknowledged publicly, Jordan is playing an increasingly vital role in the fight against al-Qaeda and other terrorist groups, sometimes in countries far beyond the Middle East, according to current and former government officials from both countries.
Politico: Brennan: Deal 'on the table' for terror suspect
The U.S. Government is offering the suspect charged with attempting to bomb an aircraft on Christmas Day, Omar Abdulmutallab, some kind of incentives to share what he knows about Al Qaeda, White House counterterrorism adviser John Brennan said Sunday.
Wall Street Journal: In 2010, Economy Again to Crowd Domestic Stage
If the big domestic story of 2009 was an economic crisis and its ripple effects in the real world, 2010 will be about cleaning up the debris from that crisis - and discovering what kind of toll it takes in the political world.
Los Angeles Times: Obama's nuclear-free vision mired in debate
President Obama's ambitious plan to begin phasing out nuclear weapons has run up against powerful resistance from officials in the Pentagon and other U.S. agencies, posing a threat to one of his most important foreign policy initiatives.
Washington Post: Use of potentially harmful chemicals kept secret under law
Of the 84,000 chemicals in commercial use in the United States - from flame retardants in furniture to household cleaners - nearly 20 percent are secret, according to the Environmental Protection Agency, their names and physical properties guarded from consumers and virtually all public officials under a little-known federal provision.
USA Today: Health bills could expand IRS role
Internal Revenue Service agents already try to catch tax cheats and moonshiners. Under the proposed health care legislation, they would get another assignment: checking to see whether Americans have health insurance.