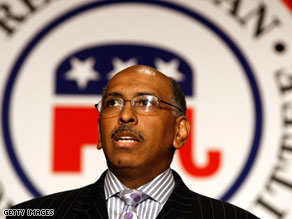 Michael Steele, in his new book, accuses President Obama of being 'hypocritical' for sending his daughters to a private school.
Washington (CNN) - In his new book, Republican National Committee chairman Michael Steele accuses President Obama of being "hypocritical" for choosing to send his daughters to an expensive private school while also killing a voucher program that offered low-income children in Washington the chance to do the same.
After winning the presidential race, the Obamas chose to send their daughters Malia and Sasha to the Sidwell Friends School in Northwest Washington, where tuition costs nearly $30,000 a year. In December 2009, Obama signed the 2010 omnibus spending bill, which included language ending the Washington Scholarship Fund, a federally-funded D.C. program that awarded school vouchers to lower-income children.
"Here in D.C., President Obama doesn't have a problem cutting off the lifeline for kids who need a good education as much or more than any children in the nation," Steele writes in his book "Right Now: A 12-Step Program for Defeating the Obama Agenda," which was released Monday.
"After all, he can afford to send his kids to Sidwell Friends, and he needs to keep the teachers' union bosses happy. He won't sacrifice his own kids for the teachers' unions - and he shouldn't. But he shouldn't sacrifice other people's kids either."
Steele writes that he doesn't fault the president for sending his kids to an elite private school over D.C. public schools, which he calls "the absolute worst in the nation." But he does accuse Obama of being disingenuous.
"Vice President Biden's grandchildren attend Sidwell," he writes. "Bill Clinton's daughter went there too, and so did Al Gore's son. President Obama is just carrying on a hypocritical Democrat tradition that boils down to this: do as I say, not as I do."