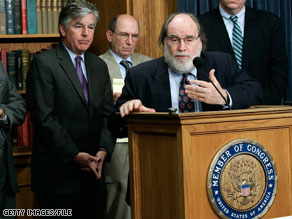 Rep. Neil Abercrombie (D-Hawaii) announced Tuesday that he would step down as congressman on February 28 to focus on a run for governor.
Washington (CNN) - Rep. Neil Abercrombie says he'll step down from Congress on February 28 to focus on his run for Hawaii governor.
The announcement comes three weeks after the 11-term Democratic congressman said he would retire from his current job in order to enter his state's gubernatorial race.
Stepping down at the end of next month will "ensure that I will be able to fulfill the remaining duties requiring my presence in the House," Abercrombie said in a statement. "This work, most notably, involves providing my continuing support for legislation on health care and the Akaka Bill."
The Akaka Bill, formally known as the Native Hawaiian Government Reorganization Act of 2009, is named after the state's junior senator. It calls for a process for ethnic Hawaiians to essentially gain federal recognition as an Indian tribe.
Under state law, a special election for Abercrombie's seat can be held no sooner than 60 days after the vacancy. The Honolulu Advertiser reports that Scott Nago, the interim chief elections officer, told the state Senate Ways and Means Committee that his preference would be to hold an all-mail special election ,with some walk-in voting sites.
Hawaii's 1st congressional district tilts towards the Democrats. Abercrombie won re-election in 2008 by 58 points, and Hawaii-born Barack Obama won the district by 42 points in the presidential contest. Democrat John Kerry won the district by 6 points over President George W. Bush in the 2004 contest.
The Hawaii governorship is currently controlled by Republican Linda Lingle, who is prevented by law from seeking another term in 2010. The Democratic Governors Association sees the Hawaii race as one of their best chances for a pickup next year.
–Follow Paul Steinhauser on Twitter: @psteinhausercnn