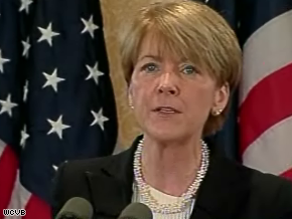 Democrat Martha Coakley has again turned down an invitation to debate Republican Scott Brown. Both are candidates to fill the U.S. Senate seat of the late Edward Kennedy.
Washington (CNN) - For the second time in less than two weeks, Democrat Martha Coakley has turned down an invitation to debate Republican Scott Brown in a one-on-one setting, as the two candidates enter the homestretch in the campaign to fill the unexpired term of the late Massachusetts Sen. Edward Kennedy.
Kevin Conroy, Coakley's campaign manager, said Monday night that she was willing to participate in a proposed WCVB-TV/CNN debate on Sunday, but only if it included Joseph Kennedy, a third party candidate who is not related to the late senator.
While Coakley and Brown met the eligibility criteria established by WCVB and CNN to participate in the debate, Kennedy did not. The media organizations said eligibility was based on several factors including organized campaign activities, fundraising and public polling. The debate was scheduled to air live on WCVB and CNN.
"There are three candidates in this race, and we believe that all three candidates should participate in the debates so that voters can make informed decisions about who to support," Conroy said in a statement to CNN. "Martha participated in more than 10 candidate debates and forums in the primary, and is participating in five more debates in the general election. We were ready and willing to commit to the CNN debate if it included all three candidates, but because all three candidates were not invited, we will not be participating."
In late December, Coakley declined a similar invitation extended by The Boston Globe, television stations NECN and WGBH and radio station WBUR to debate Brown. That debate would have aired on Wednesday.
Brown has been critical of Coakley's insistence that Kennedy be included in the debates, and suggested that she has been using the third party candidate as a distraction ().
Coakley is considered the frontrunner in the Jan. 19 special election for the late senator's seat. Brown, Coakley and Kennedy will square off in three more debates over the next week.