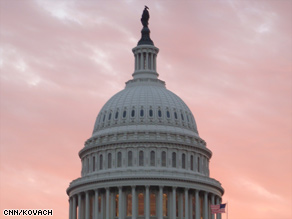 The CNN Washington Bureau's morning speed read of the top stories making news from around the country and the world.
Compiled by Alison Harding
WASHINGTON/POLITICAL
For the latest political news: www.CNNPolitics.com
CNN: Congress prepares for final health care push
The new year will bring new challenges for President Obama, but the fight for health care reform continues to top his domestic agenda as Congress prepares to reconvene. The House of Representatives is scheduled to return from vacation January 12; the Senate meets January 19. At issue for both chambers: how to merge two sweeping bills that differ on several critical details.
Washington Post: IRS to regulate paid tax preparation
The Internal Revenue Service plans to test, register and screen people who get paid to prepare tax returns, stepping into a virtually unregulated business on which millions of Americans depend for crucial financial services.
CNN: Obama promises justice for Christmas terror plotters
President Obama on Saturday linked the man accused in a botched Christmas Day airline bombing to an al Qaeda affiliate based in Yemen.
Foreign Policy: State Department official: Visas Viper cable "just the tip of the iceberg"
The State Department's official cable about underwear-bomber Umar Farouk Abdulmutallab wasn't the only report to come out of the U.S. Embassy in Nigeria as part of the Visas Viper process, a State Department official tells The Cable.
Daily Telegraph: MI5 told US about Detroit bomber's terror links 'a year ago'
Britain told American intelligence agents more than a year ago that the Detroit bomber had links to extremists, according to Downing Street.
CNN: U.S. reopens embassy in Yemen
The U.S. Embassy in Yemen, which was closed over the weekend due to security concerns, reopened Tuesday. A statement posted on the embassy's Web site said that "successful counter-terrorism operations" conducted by Yemeni security forces had addressed specific concerns.